There are hundreds of software and tools available that can help you to grow your business. But which ones are worth your time and money? We've compiled a list of the best SaaS software and tools to help you manage your business, from accounting to CRM to customer service. Whether you're just starting out or you're looking to scale up your business, these are the tools you need to get started.
As a business owner, you're surrounded by endless opportunities and challenges to succeed. The biggest challenge is how to keep up with everything going on in your business and find the most effective time-saving tools and software.
What is the SaaS Software and Tools?
Software-as-a-Service (SaaS) is a type of software that allows users to access a program or service using the internet. SaaS software is typically hosted on a web server, which means that it is always available, allowing you to access it from anywhere and any device with an internet connection.
Advantages of using Software as a Service (SaaS) tools
The saas software is an excellent tool for small businesses. It is affordable and has a wide range of features. The saas software is easy to use and has a number of useful features. The saas based software is flexible and can be used for a number of purposes. It's a great way to grow your business.
My Recommendation: 30 Best SaaS Software and Tools
This list includes tools that will help you organize your business, keep track of your marketing efforts, manage your business, create custom reports, automate your workflow, and much more.
TLinky – Link Management Platform
In the dynamic digital landscape of 2023, effective link management is the cornerstone of a successful online presence. TLinky, a cutting-edge link management tool, steps in as your ideal solution.
In a world where every click counts, TLinky empowers individuals, businesses, and marketers to take control of their links. With its user-friendly interface and a suite of powerful features, managing URLs, creating QR codes, enhancing your online campaigns, and creating engaging Link in Bio pages to enhance your online campaigns.
TLinky simplifies the process of creating shorter, more shareable links, allowing you to maximize engagement and track the performance of your URLs effortlessly.
It offers an intuitive and interactive QR code generator, ensuring that you can seamlessly bridge the gap between physical and digital marketing.
Furthermore, TLinky provides robust analytics, enabling you to gain valuable insights into your link interactions. It's time to supercharge your digital efforts with TLinky.
Top Key Features of TLinky:
URL Shortener: TLinky offers lightning-fast link shortening, making long and cumbersome URLs sleek and user-friendly.
QR Code Generator: Create eye-catching QR codes for offline promotions, seamlessly connecting your physical and online marketing
strategies.
Link in Bio Builder: Elevate your social media presence with personalized Link in Bio pages, making it easier for your audience to explore your content.
Detailed Analytics: Gain deep insights into link performance with comprehensive click tracking and engagement metrics.
Password Protection: Ensure the security of your links with password protection, limiting access to authorized users.
UTM Parameter Support: Implement UTM parameters effortlessly to track campaigns accurately in analytics tools.
Branded Links: Create branded short links for a professional and recognizable online presence.
Link Expiry: Set expiration dates for your links, ensuring content relevancy and compliance with time-sensitive promotions.
More Features:
Event Tracking
CTA Overlays
Link Cloaking
Branded domain
UTM Builder
16+ Integrations
Branded Links
API
A/B Testing
Link Rotation
Reviews:
4.9 out of 5 Stars Based on 50+ Capterra reviews.
Pros:
Seamless link management
Enhanced QR code generation
User-friendly interface
In-depth analytics
Cons:
Limited mobile optimization
New in the market
Alternative to:
TLinky emerges as the ultimate alternative to well-established platforms like Bitly, Rebrandly, Cutly, TinyURL, and LinkTree.
Pricing
Free plan – Always Free
Starter Plan – $9/ month and $90/year
Advanced Plan – $29/ month and $290/year
Business Plan – $89/ month and $699/year
Adplify Pro
For targeting your Facebook audience, a very effective tool is Adplify Pro. In the market, only 7-in-1 SaaS is Adplify Pro. It is the ultimate Facebook Ad toolkit. Moreover, it combines the seven premium Ad's power in one place. This tool makes your business more profitable by tracking and monitoring your competitor's ads. From Facebook Ads, you can get higher conversions and lower AD costs by using this tool.
Adplify Pro enables the marketer to get buyers and leads, make sales, increase conversions, and outperform the competitor's niche. You can undoubtedly select this tool to get a more effective outcome from Facebook marketing. It will save you money and time. Adplify Pro tracks your competitor's ads and will notify you whenever your competitor posts a new ad.
Top Features Of Adplify Pro
Track Guru Ads/Competitor's Ad and Ad posting time
Convert boring Ads into the eye catchy ads
Discover the perfect page audiences
Before posting the Ads calculate your ROI
Find Infinite audience
Pros:
Build a perfect audience
Fully automated
Cons:
Pricing
Adplify Elite Monthly: $67.00 ( Create 5 Accounts )
Adplify Elite Yearly: $197.00 (Create 10 Accounts)
InboxPro
InboxPro is an AI-powered email assistant that helps to boost your productivity in Gmail. This tool packs numerous powerful things, including email assistance, scheduling, analytics, link tracking, etc. Magically just one click, InboxPro composes your emails and summarizes the emails also.
Moreover, this tool efficiently sees who clicks on your email links by opening them. Efficiently InboxPro, compose all your email templates, and save them for use. Again just in a few clicks, send those emails. Furthermore, using professional email signature templates, InboxPro maintains the brand and professionalism of your emails.
Get an InboxPro Lifetime Deal
Top Features Of InboxPro
It offers email signature support
Provide portrait and landscape orientations
Build automated follow-up sequences
Visualize the activity statistics of your email
Improve your email using the method
Pros:
Superb tracking system
Simple and unique user interface
Cons:
To navigate InboxPro, users have to be proficient and well-versed in English
Missing sync with CRM built-in or CRM
Pricing
Free: $0 Monthly
Pro: $7.49 Monthly per user (Billed yearly)
Advanced: $11.99 Monthly per user (Billed yearly)
BrandNav
BrandNav is a sales intelligence platform that provides insights on 14.5 million active eCommerce Direct to Consumer (DTC) companies. The platform allows retailers to see detailed information about their competitors, including their estimated monthly revenue, product category, the eCommerce Platform, technology usage, Country, and many more. It also provides insight into their social media activity and brand awareness.
BrandNav was created in order to help people who want to get a better understanding of their DTC competitors. With this information, you can use it to determine what types of products and services you should be selling to increase your sales.
The DTC industry is a $200 billion-a-year industry with an ever-growing customer base. The eCommerce Direct to Consumer (DTC) market has grown by over 50% in the past three years and is expected to continue growing at a similar rate. This growth has put significant pressure on DTC companies to generate more sales, which in turn puts a lot of pressure on their marketing teams to deliver more leads.
BrandNav has the ability to deliver real-time sales intelligence, which means that we can provide you with the tools you need to make smarter decisions.
This includes industry-specific databases, worldwide data with over 200 countries, 30+ search criteria, 1,500+ technologies tracking, social profiles tracking, estimated monthly revenue, and more.
Top Features of BrandNav
Specific sub-industry database.
Worldwide data with over 200 countries.
30+ search criteria.
1,500+ technologies tracking.
Social profile tracking.
Estimated monthly revenue and more.
Pricing
Beginner: $49 per month
Pro: $99 per month
Legend: $149 per month
Enterprise: $299 per month
Best for: Marketers, Sales managers, Small businesses, Entrepreneur
Best Alternative: to D7 Lead Finder
Paced Email
A very popular privacy-first productivity tool is Paced Email. This tool enables you to gain a calmer email inbox and provides identity protection and added privacy. Actually, it is a saas based email forwarding service that increases users' productivity by bringing calm back to their inboxes. Using this tool, you can get back control of your email inbox.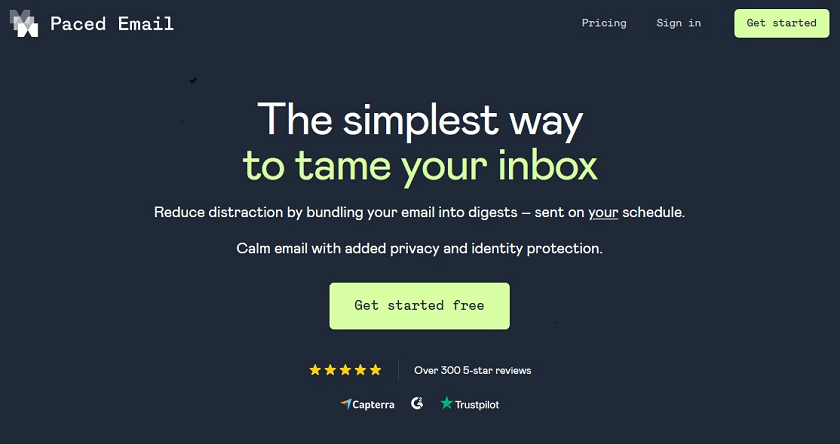 It helps to create burner emails so that you can safely subscribe to the newsletter. The updated features of this tool make new email creation in inboxes super easy. It will keep your inbox manageable, clean, and sortable. Simply, Paced Email protects your actual email address's privacy and controls the flow and pace of email to your inbox.
Top Features Of Paced Email
Unlimited inbox aliases
Complete scheduling of digest deliveries
Filtering, forwarding, and bypassing the rules to triage emails
Send emails from aliases
Unlimited digests and recipients for digests
Pros:
Quickly produce burner email addresses
Intuitive platform and very easy to use
Cons:
Across all boxes challenging to search for the keywords
No mobile app
Pricing
Free: $0 Monthly (Up to 5 email addresses)
Standard: $12 Monthly (Up to 50 email addresses)
Premium: $20 Monthly (Unlimited email addresses)
AdTargeting – Google Keyword & Facebook Interest Targeting Tool
AdTargeting is a Facebook Interest & Google Keyword targeting tool to discover hidden or niche AdWords of massive audiences. With this tool, you will get a lot of information about your targeted audience. You will get the opportunity to find out which keyword will bring you more money.
Interest research is one of the most important tasks that any marketer must complete. It helps you understand what people are interested in, and how they're searching for what you offer.
We all know that time is money and we want to save as much of it as possible. One of the best ways to do this is by using the right tools to research your target audience. This is where the Facebook interest and google keyword targeting tool comes in.
It also provides Bing Keyword Search and TikTok Interest Search Features.
AdTargeting greatly helps you to maximize the ROI by targeting your target audience. The main aim of AdTargeting is to analyze the Google keyword and target Facebook interest. Moreover, AdTargeting reveals hidden interests by providing you with the keywords in large numbers.
AdTargeting targets your business audience and steals the competitor's traffic. Analyzing and spying on your competitor's Facebook Ads, this tool helps you to steal their traffic. Moreover, according to your interest category, it makes a summary of different niches like Entertainment, Shopping, Fashion, Technology, etc. Furthermore, it enhances the user experience in all these categories.
Top Features of AdTargeting
Find the Facebook interests
Target the audience of your competitor's Facebook page
Find suitable Google keywords
In a single click, directly to your Ad manager, add the interests
Spy on your competitor's Facebook Ads
Bing Keyword Search
TikTok Interest Search
Advertiser Insight
Pros:
Target highly interested audiences in your niche
Search for more hidden interest
Cons:
Pricing
BASIC: $9 / month (20 Queries Daily)
PRO: $69 / month (Unlimited Queries)
VIP Enterprise: $199- $999/ month (Unlimited Queries)
Postaga – Build Outreach Campaigns
Postaga is a smart sales outreach platform that helps you find potential leads, convert them into content partners, and track the performance of your campaigns. Postaga is a platform that allows sales professionals to manage and automate their entire sales outreach process using artificial intelligence.
Postaga helps you to boost qualified web traffic and promote your content by creating backlinks opportunities. Without manual cold outreach, this tool builds automate processes to link and promotes the content. Moreover, based on your goals, it builds the targeted campaigns and uncovers the overall new and relevant opportunities.
With this tool, you can easily generate targeted outreach campaigns. Moreover, with Postaga, you will reach more qualified contacts, and it will help you to fit your overall business goal.
It's a simple and easy way to send cold emails to your content partners. You can send an email to a publisher or influencer to get their attention and ask them to publish something on your blog.
Postaga comes with a fully functional, affordable, and effective CRM solution that allows you to track leads, automate follow-up actions and manage your entire sales cycle.
Postaga has a campaign for everything, whether you want to get more press for business, get more backlinks to advertise your blog, or find new customers. Based on the specific keywords or your content type, you can choose the Postaga campaigns. Moreover, just in a few minutes, it starts sending outreach emails.
Top Features of Postaga
Email marketing
Powerful Analytics
High-quality backlink generation opportunity
Content hub and campaign generator
Opportunity finder
Manage Contacts
CRM
Pros:
Well-designed platform with no distractions
Helps to expand the customer base
Cons:
No free plan is available
The price is not suitable for a newbie
Pricing
Pro: Starting at $84 / Month
Agency: Starting at $250 / Month
Creaitor.ai – Powerful AI writing assistant
Creaitor.ai An AI-powered content creation tool it will help you to streamline your writing process. This tool lets you write emotionally expressive and more powerful content. Its amazing features and useful output saves both your time and money.
Creaitor.ai is packed with a different powerful analysis tool, easy-to-follow NLP guidelines, and the SERP beater. The tool allows you to optimize your content for search engines, and those contents will rank better.
Creaitor.ai allows you to create blog headings, blog intro, email copy, headlines, YouTube scripts, Google and Facebook ads, blog posts, and everything. This powerful content writing software ensures the seamless creation of content for the writers.
In a short time, this AI-based copywriting tool allows you to create better content. Moreover, you can easily generate attention-grabbing headlines using this tool.
With Creaitor.ai you can create amazing images without any design skills. You don't need to worry about image quality or size anymore. Artificial intelligence (AI) will do the work for you and deliver high-quality results in no time. Creaitor.ai will generate royalty-free images according to any type of style, design, pattern, background, etc.
Top Features of Creaitor.ai
AIDA framework
Blog content generator
Marketing copy generator
70+ Templates
Open AI form
Goolge NLP suggestion
SERP analyzer
Pros:
It saves money and time
Faster content creation
Generate new ideas at a first speed
Cons:
No long-form generator ( But they are planning to integrate this feature )
Pricing
Basic: $ 9 Monthly
Standard: $ 29 Monthly
Professional: $ 59 Monthly
Worktivity – Employee Monitoring and Time Tracking Tool
Unlock the true potential of your team's productivity with Worktivity, the ultimate employee monitoring and productivity suite designed to move businesses to new heights. This powerful tool redefines how teams are managed, offering a comprehensive range of features that go beyond the ordinary.
In the fast-paced corporate world, productivity is key to success. Worktivity offers a wide range of tools and functionalities to streamline your team management and optimize productivity.
Say farewell to traditional methods of tracking performance and welcome a new era of data-driven insights, real-time goal monitoring, and collaboration tools that foster a more efficient and cohesive work environment.
Whether your team operates remotely, in-office, or in a hybrid setup, Worktivity is the all-in-one solution to optimize workflows, improve productivity, and achieve remarkable results.
From small businesses to larger enterprises, Worktivity's scalability ensures that it adapts perfectly to your organization's size and requirements. Revolutionize the way you manage your team with Worktivity's unparalleled features, and experience a new found level of productivity, efficiency, and growth.
Top Key Features:
Time Tracking
Collaboration Tools
Manuel time Entry
Visualizations and Reports
Screen monitoring
Activity monitoring
Timelapse videos
Real-time Goal Setting
Performance Measurement
Pros:
Take Data-Driven Decisions
Comprehensive Features
Suitable for All Business Sizes
Cons:
No free plan available
Coming Soon
Project & Task Management & Task Tracking
Automatic Payroll Calculator
Risk User Setting
Pricing:
Starter: $4.99 per user / monthly
Growth: $8.99 per user / monthly
Pro: $12.99 per user / monthly
Note: 2 month free for Annual payment
Mighty Memes – Go Viral on Social Media with Memes
A 100% web-based software is Mighty Memes, which easily automates meme marketing for social media. This tool provides users with thousands of readymade memes. And the users can personalize and modify those memes too. The Mighty Memes works best with Facebook pages and groups and creates great connections and solid engagement audiences.
Mighty Memes is provide you with a full memes marketing strategy that will ensure the best result. This tool ensures that your social media account growth will be faster with viral memes. And ultimately, the engagement will increase over time.
Good memes have a greater chance of getting viral and increasing engagement over time. Mighty memes for any niche can create amazing memes. Moreover, from thousands of readymade meme templates, you can choose one and put in your own captions.
Get Mighty Memes Lifetime Deal
Top Feature of Mighty Memes
1000+ readymade meme templates
Content management
Reporting/analytics
Create a meme by simply typing
Create new memes based on any template
Social Media Marketing Sales Builder
Post memes and schedule them on social media
Create Viral Memes For Any Niche Or Topic
Pros:
Live chat support 24/7
Enhance brand recognition
Viral Marketing on Social Media
Cons:
Pricing
Mighty Memes Elite $17 Monthly
Mighty Memes Elite $67 Yearly
TubeTarget – Find Targeted Videos and Channels for YouTube Ads
TubeTarget for YouTube ads finds perfectly targeted channels and videos. This amazing SaaS tool helps you explore profitable niches and narrow down the videos that the audience is watching. By finding your AD's perfect placement on YouTube, this tool ensures that you will get a better response. It taps into your competitor's traffic.
TubeTarget legitimately steals your competitor's sales, leads, and conversions. And it helps your YouTube channel rank number 1. Moreover, through advertising on YouTube, you will get the best result using this tool.
TubeTarget finds the best-monetized videos for you so that you can easily place your ads on those videos. Whatever topic or keywords you put in, TubeTarget will find the best videos for you. You will get the perfect video list quickly to advertise by putting the keyword. Moreover, you can directly feed the list to Google Ads. Furthermore, TubeTarget analyzes the video, channel, and keywords for you to get the best results.
Top Features of TubeTarget
For YouTube ads find the perfectly targeted channels and videos
Online SaaS and it works anywhere
Find the perfect monetized videos for your niche
Find the perfect keywords for your YouTube video ads
View performance data and complete stats
Pros:
Create compatible CSV and Google ad
Ensure the best returns for you by finding the monetized channels
Cons
Pricing
Tubetarget Elite $17 Monthly
Tubetarget Elite $67 Yearly
Katteb – AI Content Writing Assistant
Katteb is a revolutionary AI writer and AI virtual content writing assistant. It will generate readable, high-quality, fresh, and fact-checked content. Before writing any content on any niches, this tool verifies the facts first and then writes. It can write content about any upcoming event or recent issues.
Katteb will localize the content according to your audience's interests by choosing a particular location. Katteb offers 20+ AI templates to its users. Every week it releases a brand new template for your better use. Once the template becomes available, you can easily access them.
Using Katteb you can generate content from 30,000 words to unlimited words per month based on your plan. This is an AI writer tool that writes original and high-quality content that will rank higher on the search engine. Katteb is a trendsetter and a better option than any other content-writing tool.
Within a minute, Katteb will allow you to write a post of 500+ words. The grammar and plagiarism checking tool of Katteb is 100% free and offers unlimited checks. This tool is specially designed for bloggers, copywriters, and content creators. Also, It provides a built-in proofreading engine.
Get Katteb Lifetime Deal from AppSumo
Top Features of Katteb
60+ languages Support
Proofreading engine
Related AI Images Suggestion
20+ AI templates
Professional Emails Copy
Sales Copywriting
Rewrite Content
Fix Grammatical Errors
Product Descriptions
Plagiarism-free content
Pros:
Making easy & faster content writing process
Create compelling content
Cons:
Sometimes simply replace words with synonyms
Pricing
Beginners $15 / Monthly ( 30K words per month )
Professionals $20 / Monthly ( 100K words per month )
Experts $25 / Monthly ( Unlimited words per month )
Reniwn – No Code Website Builder with eCommerce
Reniwn is the fastest, easiest and most powerful, and most efficient no-code website builder. This can also transform your ideas into an incredibly awesome website in just 5 minutes. Reniwn creates a fully responsive website. Whatever content you add to your website will naturally adjust across different devices because of the responsive features.
Creating an amazing website with this software is fast, easy, simple, and intuitive. Building a website with Reniwn is a matter of minutes. And in the entire website-making process, you don't need to do any coding.
While building your website with Reniwn, you can start with any theme. Moreover, you can customize your site according to your requirements just to make your dream website. 100+ themes are available in Reniwn. Therefore choosing any theme according to your interest, you can develop a visually impressive website.
All the themes offer animation effects, clean layouts, and responsive visuals. All these features of your website will surely leave an impression on your site visitors and users. The comprehensive SEO features of Reniwn will increase your site's overall traffic, conversions, and engagement. Moreover, the 1000+ include Facebook Pixels and Google Analytics tracking also.
Top Features of Reniwn
100+ responsive themes
Complete eCommerce functionality
Unlimited free stock photos and
Create a fully responsive, visually impressive, and SEO-friendly website
Use the professional built-in eCommerce and blog tools
Advanced eCommerce feature
Drag & drop website builder
Pros:
In a minute, build a stunning website
No coding knowledge required
Cons:
Some features have limitations compared with other eCommerce platforms. But the team continuously improves it day by day.
NuronWriter
An AI-powered writing and research tool is NuronWriter, which helps you to plan to create content for ranking higher on Google. NuronWriter uses semantic recommendations to plan high-ranking content and boost your SEO. It saves your time by allowing you to research content and optimize it for search engines like Google, Bing, etc.
This AI-powered tool helps you to generate content that both the search engines and readers will love. After analyzing the competition, NuronWriter helps you to write content.
NuronWriter helps you to optimize the content for search engines by analyzing SERPs, researching keywords, and extracting high-ranking content. This tool gets NLP recommendations and uses AI to create content. Also, it prioritizes your content publishing using task management tools. Quickly on your niche, you can research articles using NuronWriter.
For each query and keyword, NuronWriter allows you to copy the content structure from your competitor's page and analyze SERPs to create better content. Whether you want to optimize the existing content or create a new one, NuronWriter allows you to do so.
Top Features of NuronWriter
Content planning
AI content writing
AI Templates
Competitor SERP analysis
Internal linking
Google Search Console integration
Plagiarism checker
NLP content optimization
Pros:
Manage content to rank better on SERPs
Provide new content ideas and internal linking suggestions
Low price compared with competitors
Save your time and money
Reduce your manual research process task
Cons:
Not provide unlimited generation
ShopFunnels
ShopFunnels helps you to create highly converting eCommerce store as it is a powerful no-code eCommerce store builder. It allows you to create your best-selling eCommerce store in a minute. ShopFunnels provide support for dozens of free plugins and all major global payment gateway.
ShopFunnels is an extensible, powerful, and self-hostable eCommerce platform.
ShopFunnels support 17 languages. In a few minutes, users of this eCommerce builder can create high-converting eCommerce stores. It imposes zero restrictions on the number of inventories and products. Therefore you can add any number of products to your store.
This platform is very affordable and easy to use also. It fully compatible with SEO that enables you to drive a huge amount of traffic through blogs. This eCommerce software makes captivating sales pages for the product of your store.
Top Features of ShopFunnels
Unlimited stores per domain and commercial rights
100 templates and 50 powerful eCommerce shop ideas
Unlimited eCommerce stores per site
On 1 domain/site creates multiple shops
Unlimited visitors to your site
Pros:
Includes the pop-up, gift card, and spin-awards plugins
Embed your eCommerce store in blogs
Cons:
This platform doesn't offer a free trial before buying it
It's does not offer hosting
Uptime Domains
The Uptime Domains manages monitors and heartbeats, provides instant notifications, and inspects your uptime statistics. When your tracked services become up or down, you will get instant notifications. You will learn how long and when your monitors will be unavailable through the instant notifications.
This tool tracks the uptime of your servers, website, and APT ports. Monitoring and tracking your site is easy as ever with the Uptime Domains. The Uptime Domains keeps track of your Cron jobs by checking the heartbeats. Also, this tool ensures that your site is running perfectly when it should.
Once you activate the weekly reports on your email, the Uptime Domains will send you the vital email with the most important numbers. This domain creates beautiful QR codes that will lead to your status pages. You can invite your team members and manage them with this domain. Doing all these together is time-saving and more fun.
The Uptime Domains sends you email notifications, Webhook notifications, slack, and telegram notifications. Moreover, it sends important notifications on your discord channel for monitors, heartbeats, and domain alerts.
This domain comes with an analytics dashboard. The dashboard shows you detailed analytics of who visited your status page. Also, the dashboard has all the details, including the visitor's countries, UTM, cities, browsers, devices, language, etc.
Top Features of Uptime Domains
Custom domains & Custom status page
Weekly email reports
Webhook, Email, Slack, and Telegram notifications
Analytics dashboard
Discord notifications
Pros:
Easy to use
Provide instant notifications
Cons:
Need to pay an extra amount for Unlimited Custom Domains and Unlimited API Access that comes with Business Add-on.
Outscraper – Google Search Results Scraper
Outscraper is the Google search results scraper. Get real-time SERP data with the help of this tool. It scrapes the structured search results data of Google into a file. This tool allows you to extract the SERP results into an Excel/CSV/JSON file. Moreover, to do this, you don't need any coding skills.
Which keywords do you want to search on the Outscraper? First, make a list of that. Now the keywords result that you want to extract, write that keywords list. Extract the keywords into the "Queries to Search On Google" box. And then finally get the results.
Worldwide a huge number of customers trust the Outscraper service. Thus there is no question about its reliability. And undoubtedly, it's reliable. From individuals to big enterprises, everyone uses Outscraper.
Outscraper scrapes the data by applying cutting-edge technologies. It ensures that you will get all the information you need. in addition, the Outscraper software always remains up to date. So even if there are any changes in the system, you can keep scraping without any worry.
The Outscraper core handles all the extractions. The core is specially designed so that Outscraper can simultaneously handle limitless or millions of tasks. Using this tool, you can surely scrape search results of your desired keyword from Google.
Top Features of Outscraper
5000 searches from Google per month
CSV/Parquet/XLSX/JSON results format
Reliable or increasing reliability
Regular updates
Cutting-edge technologies
Cloud scraping
Handle millions of or limitless tasks simultaneously
Pros:
Ensure the easy management of scraping tasks
Data-rich reports
Cons:
FileStreams – Upload and Share Unlimited Files
FileStreams allows you to upload and share unlimited files on cloud storage. It's affordable cloud storage. This file-uploading platform stores all your essential files and keeps a backup. Whether the files are important documents or family photos and videos, this tool store everything.
Simply Filestreams is a file or data hosting provider. It offers remote backup capacity, online storage, and sophisticated downloading and uploading tools. Using Filestreams, you can host images, files, audio, video, and flash in the same place.
You can upload many files at once while using it. And on this site, you can keep those files forever. This is the best way to store your data for small businesses, startups, or personal uses.
Due to the increasing and ever-growing cost and demand of the physical storage solution, this tool comes with a scalable cloud storage feature.
Top Features of FileStreams
Scalable cloud storage with WebDAV or file editing features
Word files and real-time excel editing support on PC with Sync
Multi-file uploader
In-built media player and document viewer
Drag & drop upload
Pros:
Easy file sharing and uploading in cloud storage
Ensure file privacy
Cons:
SellitPics Pro – Hyper Personalized Images For Your Marketing
SellitPics Pro creates hyper-personalized images for your marketing. It generates out-of-box hyper-personalized photos to grab the prospect's attention on the social platform. You can double your sales by hyper-personalizing image messages on emails, social media, and landing pages.
Use hyper-personalized images and get excellent results from your outreach marketing. Dozens of readymade templates are available in SellitPics Pro, using which you can create hyper-personalized images.
After creating the personalized image, this tool sends the messages on platforms like LinkedIn, Facebook, Twitter, Skype, and more. Moreover, it sends emails with personalized images for cold email and mass-emailing marketing.
SellitPics works well on communication apps, social media networks, and all email marketing systems. The templates within SellitPics are fully customizable. You can easily customize the templates according to your requirements. After signing in, you can get the 60,000 image-generation credits.
Get SellitPics Pro Lifetime Deal
Top Features of SellitPics
Works with all email marketing systems and social media networks
On sign-up, 60,000 image-generation credits
Fully customizable templates
Every month it offers fresh 8,000 new credits
Public template bank
Pros:
SellitPics enable you to turn your prospects into actual customers
Ensure better results from outreach marketing
Cons:
Steve.AI – AI video generator platform
Steve.AI is an Advanced AI video generation tool. With the power of AI, this online tool generates animated or engaging videos from the text in a minute. An effective way of driving engagement in content is video. You can make high-quality video content using ai video editor online tool with minimal effort.
However, unfortunately, everyone doesn't have the expertise, skill or resources to produce high-quality video content. Moreover, creating videos in both time-consuming and costly. So, to reduce all your tension, you can use this Steve.AI ai video generator platform. Just enter the text within this tool. And it will take care of the other issues.
Steve AI is an efficient AI video editor online tool that helps you to create your required professional videos in a few minutes. Using this video, you can scale your production without a sweat. This ai video generator online tool creates high-quality videos with visuals, voice overs, music, and other dynamic features.
With a few clicks, Steve AI can generate animated videos with custom actions, characters, and expressions. The tool has AI capabilities and is in compliance with GDPR regulations. It is best for Educators, Content Creators, and YouTubers.
Steve.AI is well organized with the blog-to-video and script-to-video features. This feature allows you to convert written text instantly into high-quality videos. Right from your blog URL, the AI of this tool extracts text automatically. And then it converts the text into a ready-to-publish video. Steve.AI is the best ai video editor in the market today.
Top Features of Steve.AI
Patented AI video generation engine
Convert text to captivating videos in minutes
Generate live videos and animation with AI assistance
Access millions of large libraries, media, and animated characters
Upload custom photos, videos, and audio files
Access an exclusive media marketplace
Convert text to video
Use animated characters in your videos
Pros:
It provides millions of free-to-use images and videos
reduce your video making hassle
Easily convert text to video
Save time and money
Access to an exclusive media marketplace
High-quality videos
Cons:
tinyEmail – Best Email Marketing Tool
tinyEmail automatically sends perfect emails using AI power. Sending a powerful email brings your audience, brand, and data together. At the right time, this tool sends targeted email messages to the right person. The AI-powered messaging system of this tool makes it more powerful and unique.
The AI generates the email copy and effective subject lines that can double your email open rates. Thousands of businesses worldwide love this email marketing tool. The groundbreaking automated personalization engine of this tool generates email personalization.
The email construction of this tool is enormously powerful. This tool has the largest designer templates library in the world. Moreover, it has the most powerful email editor in the world. The tinyEmail drag-and-drop editor is extremely easy to use.
This tool adds timers, forms, and surveys to boost engagement and make your emails interactive. It comes with powerful product modules. Moreover, this tool sends emails that are tailored perfectly to your brand.
tinyEmail with actionable insights makes informed decisions. This tool gives you a complete understanding of the marketing effort by presenting insightful, clear, and easy-to-understand analytics.
Top Features of tinyEmail
Without code, create a stunning message
Engage with your audience using personalized email
Build interactive emails
Largest template library
Groundbreaking automated personalization engine
Pros:
Fully customizable and easy to use
Great templates and easily affordable
Cons:
Shopiroller – SaaS eCommerce Software
Shopiroller generates strong sales channels for your business by launching your eCommerce store. It provides your eCommerce store with a lot of scope to grow. This platform allows you to build an online store that can use across mobile, website, and popular sales channels.
Shopiroller allows you to build your eCommerce store without code. You can sell products via mobile, web, and other popular sales channels using this saas based eCommerce platform. It provides easy payment solutions by accepting payments from multiple payment getaways like Stripe, PayPal, etc.
This headless commerce platform lets you maximize your business revenue at zero transaction fees. Shopiroller is a no-code headless commerce platform that allows you to manage your eCommerce stores via mobile or web. This platform has everything you need to build your online eCommerce store.
Getting started with this eCommerce platform is very simple. Just upload your company logo, and add your brands, products, and categories. Afterward, highlight the main features of your selling products. Moreover, you can connect your eCommerce store to the existing domain.
Most importantly, you don't need to hire an expensive developer to build an online shop on this no-code saas based eCommerce platform. Shopiroller allows you to sell your product easily anywhere or to anyone. With just a few clicks, you can build your store. You will get every feature in Shopiroller to start, grow and manage your online business.
Top Features of Shopiroller
Complete Online store
Payment Solutions
Get paid with a link
Native mobile application
Custom domain
POS system(Coming Soon)
GDPR compliant
Unlimited product photos, brands, categories, etc.
No Shopiroller branding
3 product variants
Pros:
Easy to set up and use
Make selling products across the world easier
Cons:
illow
illow is a cookie banner. It makes your site compliant with CCPA, LGPD, GDPR, and data-privacy regulations. This tool allows you to display a branded cookie banner.
The banner is tailored to each visitor based on the browser language, location, and regional legislation. illow, in a super simple way, makes your website compliant with different data-privacy regulations.
The easy process of the complaint is to integrate the free WordPress plugin or copy-and-paste the code. Moreover, this cookie banner automatically updates your site's privacy policies and cookies if there are any law changes.
The illow library contains cookies of over 50,000. You can automatically categorize all these cookies, sparing you from the tedious manual sorting or hours of mind-numbing scrolling.
You can allow your users to centralize, organize and manage their data with the help of illow. illow enables you to manage data efficiently, including portability, deletion, and complete information request.
Using the Consent optimization Mode of illow, you can decide whether you want to show the consent banner to the visitors or not. You can also block all scripts and cookies until the user consents.
Top Features of illow
Automated cookie categorization
Multi-language cookie banner
Cookie policy and consent logs
GDPR, LGPD, and CCPA compliance
Cookie banner customization and logo
Pros:
Easy categorization of cookie
Integration with WordPress and more
Cons:
Pricing Plans
Growth: $39 per month
ClickReach – Cold Email Marketing Web App
ClickReach creates hyper-personalized cold emails that get replies like clockwork. Also, it automates follow-ups for your email. This is a powerful outbound and prospecting automation solution. It reaches hundreds of leads by creating multiple sales engagement campaigns.
Sometimes if any message doesn't feel generic, ClickReach starts automating one-to-one message follow-up sequences. By doing the right work at the right time, this platform creates more opportunities for you.
It greatly helps you to outperform your outreach goal. This powerful outbound automation solution enables hyper-personalized one-to-one email messages at scale. And thus, it allows you to generate more replies. This tool can reach hundreds of leads by creating multiple sales engagement campaigns.
ClickReach makes your email recipient feel special by starting one-to-one conversations with your email list. It makes each message unique to the recipient by automatically using personalized custom text, custom first lines, and other variables.
Moreover, it schedules the email messaging timing also. ClickReach creates effective cold email sequences and launches them. Also, it sends unlimited emails to follow-ups that feel genuine and personal. Ultimately this cold email sequence opens more sales opportunities.
Top Features of ClickReach
Dynamic, custom, and conditional variables
Unlimited contacts and campaigns
Click, reply, and open the tracking
Automate follow-ups and follow-up automation
Connect any email provider with SMTP
Pros:
Create and save templates
Follow-up automation
Provide live support
Cons:
The custom delay between sending each email
Pricing Plans Monthly
Business: $37
Scale: $47.2
HyperScale: $77.6
20% Off for the annual plan
Postuby – Graphic Design Software Online Tool
Effortlessly create stunning designs for all special events with Postuby, the ultimate social media design tool with pre-designed templates and no design skills required.
Postuby eliminates your tension about what design to share on social media on special occasions. This platform allows you to share the stunning design on all your social media platforms.
You can design at light speed or edit designs with its automatic design tool. Postuby, for all your special days, offers unique designs. And you won't find these designs anywhere else.
So, you can use the ready-made designs according to your preference for all special occasions. Compared to simple templates, Postuby offers much more features.
While using this online design tool, you will feel you are taking service from an impressive agency. Professional designers carefully prepare all the templates in Postuby. Therefore these are different from the available typical templates.
You will discover thousands of stunning and creative designs once you use Postuby. Automatically this platform add a logo to the designs. According to your preference, you can edit the designs using the practical editor.
Top Features of Postuby
More than 15,000 design templates
High-quality and stunning designs for all your special days
Automatically it adds a logo to your design
Suitable sizes for different social media platforms
Really easy editor and auto design tool
Pros:
Without zero design knowledge, you can use designs from Postuby
It makes the necessary recommendation regarding sharing on social media
AI social copy writer
Hashtag generator
Cons:
Pricing Plan
Starter: $19.99 /month ($239.00 Per year)
Premium: $49.99 /month ($599.88 Per year)
Ultimate: $99.99 /month ($1,199.00 Per year)
SurgeGraph
SurgeGraph helps you in industry-leading keyword research, effortless content planning, and excellent content writing. Your key to high rankings, unstoppable traffic, and instant visibility starts with SurgeGraph.
The SurgeGraph team always keeps the users up-to-date with its new content protocols. It finds low-competition keywords, And you can use these low-competition keywords in your content to rank it higher.
With the keyword, research feature finds the perfect low-competition keywords for you. According to the opportunity score, it sorts your keywords. And with the best ROI, this tool identifies the low-competition keywords.
Moreover, it tweaks your content with SEO optimization recommendations. This tool targets an accurate audience by creating your content's better context.
SurgeGraph is a great content planner. It strategizes content with a planner to target the right audience. Moreover, this tool with keyword management selects high-quality keywords. And it organizes and evaluates your favorite keywords.
It uses the data overview to get your keyword's latest overview. Moreover, in real-time, it plants and gauges the content's potential. SurgeGraph with bulk keyword research, maximize your research efficiency.
Top Features of SurgeGraph
keyword research
Craft high-ranking content
Effortless content planning
SERP Analyzer to Discover the high-ranking pages
Save precious time through bulk keyword research
AI content writer
Content Optimize
Content Strategy
Pros:
In a single research, finds all your keywords and save time
Vastly improve the internal linking strategy
Cons:
Pricing
Basic: $29/month
Premium: $59/month
Agency: $69/month
Lifetime: $699/One-time payment
Leads2List
Lead2List directly drives leads to your auto-responder, and it's a cloud-based list-building system. It sends leads to any Autoresponder/CRM from the Facebook Ads. Facebook Leadgen ads, for any niche, is a great way to find new leads.
The Facebook Leadgen ads also have pitfalls, as they won't feed the list to your CRM or autoresponder. But Lead2List overcomes this shortcoming and does it for you. Lead2List is a powerful SAAS.
It connects your Facebook Leadgen Ads to CRM or autoresponder using native integrations. Lead2List uses Universal Adaptor technology to connect with any virtual CRM or autoresponder.
Per day, this tool supports multiple ads, CRMs, lists and unlimited leads. It is the best solution for those who want leads and are running Facebook Ads.
Simply Lead2List from your Facebook Lead Gen Ads send leads directly to your autoresponder. It is the ultimate and unique list-building software.
Without any opt-in or websites, the Lead2List can instantly and easily deposit unlimited Facebook Leads. And it deposits all the leads straight into your Autoresponder.
Top Features of Lead2List
Supports multiple Facebook ads
Unlimited leads
Submit the same lead to multiple CRM or autoresponder
Rich reporting and analytics
Includes free training
Pros:
24/6 live support
Create unlimited leads
Cons:
Directual – No Code Web and Web3 Development Platform
Directual is a powerful no-code platform that enables you to create sophisticated web and Web3 apps with the ease and convenience of a visual approach to development. With Directual, you can harness the power of Amazon's cloud infrastructure to build scalable and secure apps that can handle millions of records and API requests with ease.
Directual allows developers, IT/security agencies, and solopreneurs to build scalable apps for the web and Web3. With Directual, you can enjoy the flexibility, scalability, and security of traditional coding on a visual no-code platform.
Unlike other no-code platforms, Directual enables you to move beyond the minimum viable product stage, with a full-stack app development platform that combines the power of traditional coding with an intuitive visual approach to development.
Key Features:
Scalable and sophisticated app development on a no-code platform with an intuitive visual interface.
Integrations with other no-code tools like Webflow and Wix, or applying a traditionally-developed UI for web and mobile.
Full-stack app development platform with the power of traditional coding.
Main app dashboard to manage your app and track everything.
API builder for user-based access to certain fields with filters.
Automation of backend app logic by building and interconnecting scenarios to create workflows.
Web3 plugins: NFT, MetaMask, Ethereum, Polygon, WalletConnect, and Near.
Pros:
Flexibility, scalability, and security.
Offers an intuitive visual interface for easy app development
Combines the power of traditional coding with a no-code approach
Generous affiliate program that allows you to earn up to 50% of client payments
Provides plenty of templates, help materials, and video guides to help you get started easily
Free plan available
Cons:
Pricing:
Free: $0
Startup: $29 per month paid annually, or $39 paid monthly
Pro: $99 per month paid annually, or $139 paid monthly
Business: $300 per month paid annually, or $429 paid monthly
PinChat – AI-Based Chatbot Application
PinChat is an AI-based chatbot application for customer engagement. It will help you connect with your clients effortlessly. Whether you're looking to chat with customers, collect user feedback, or manage your customer list, PinChat has got you covered.
With PinChat, you can now start a live chat with customers via a link or QR code, all without any additional apps needed. You can also use the chat feature to send surveys, collect client information, and use chatbots to help customers.
One of the best things about PinChat is that you can use it as a comprehensive customer engagement tool that lets you manage all your customer messages on one dashboard.
With instant notifications whenever you receive a new message, you can be sure that no question or concern will ever slip under the radar again.
You can rest assured that no query or issue will be missed as you will receive immediate notifications whenever a new message is received.
PinChat also offers a chatbot builder that enables you to easily build your own chatbot.
You can use the chatbot to address customer questions and concerns and guide them to the answers they need. This way, your customer service team can focus on urgent matters while the chatbot takes care of routine inquiries.
With PinChat, you can create sub-accounts for your customer support team members, allowing multiple team members to work simultaneously and reply to messages at the same time.
Plus, PinChat is available on both iOS and Android devices, so you can stay connected with your clients on the go.
Key Features of PinChat
Customizable chat link
Set chatroom appearance
Complete messaging functions
Data analytics
Email and SMS notifications
Website chat widget
Export chat data
Integration with other messengers
In-chat payment
Customize messaging functions in the chatroom
Client list
Chatbot editor
iOS and Android App available
Link in Bio Tools
Pipio – Personalized Video Content Creation Platform
Do you want to create video content that stands out and makes a lasting impression on your audience? With Pipio, you can easily generate personalized video content using photorealistic AI avatars and text-to-speech technology.
Say goodbye to the time-consuming and expensive process of casting actors, hiring production teams, and shooting videos. Pipio offers an efficient and cost-effective solution for creating high-quality videos that represent your brand.
With Pipio, you have access to a diverse range of virtual actors that represent various ages, genders, ethnicities, and races. Choose the perfect brand ambassador for your video, and customize their dialog and vocal performance to optimize your script.
Pipio also allows you to voice your digital actor yourself by recording your audio. Additionally, you can create your own custom avatar by submitting video footage, which Pipio will generate exclusively for you.
The platform offers over 825 voice and accent options across 79 languages, so you can reach a global audience with ease. Customize the text-to-speech to ensure your video sounds natural, and adjust the pitch, speed, volume, and pronunciation to fine-tune the virtual actor's vocal performance.
Pipio's video editing interface makes it easy for even non-professionals to create high-quality videos. Add music, custom text, colors, shapes, and thousands of stock images and backgrounds, or upload your own. With Pipio, you can export the final product to your favorite post-production software, finalize edits, and share it on social media in no time.
? Get Pipio Lifetime Deal
Key Features of Pipio:
Access to a diverse range of virtual actors representing various ages, genders, ethnicities, and races.
Customize dialog and vocal performance to optimize your script.
Over 825 voice and accent options across 79 languages.
Create custom avatars by submitting video footage.
Customize text-to-speech to ensure your video sounds natural.
Add music, custom text, colors, shapes, and thousands of stock images and backgrounds.
Export the final product to your favorite post-production software and share it on social media.
54 digital actors.
1080p+ HD resolution.
Pros:
Pipio offers a cost-effective solution for creating high-quality video content without the need for casting, hiring production teams, and shooting videos.
With a diverse range of virtual actors and over 825 voice and accent options, you can easily reach a global audience in multiple languages.
The platform's video editing interface makes it easy for even non-professionals to create high-quality videos.
Cons:
Pipio's custom avatar add-on is relatively expensive at $250.
Pricing:
The premium plan starts at $25 per month with 25 video credits per month. You will get a flat 20% discount when you are billed annually.
Plai – AI-powered Ad Management Tool
Looking to take your advertising campaigns to the next level? Plai is an AI-powered ad management tool that simplifies your ad campaign management and optimizes your advertising spend. With Plai, you can launch targeted ads in seconds, without any prior experience required.
Plai is designed for small teams and creators who want to create comprehensive advertising campaigns that generate results. The tool is highly intuitive, allowing you to plug in your creative assets and apply campaign parameters with ease. In just a few clicks, you can get a campaign up and running and start seeing results.
What makes Plai unique is its ability to handle all aspects of your ad campaign, from bidding and remarketing to analytics and A/B testing. The tool works closely with the ad platforms used by Google, Facebook, TikTok, YouTube, and more, so it can handle all your campaign-related needs, no matter your budget.
With Plai, you can easily add text options and multiple graphics for each campaign, ensuring your ads are engaging and effective. The tool also allows you to A/B test different campaign combinations, so you can identify the best strategies for your business.
Plai also helps you uncover valuable insights from your analytics data, allowing you to make better business decisions. Whether you need to determine the best social channels for your target audience or figure out how customers find you, Plai makes it easy to dig deep into your data and uncover valuable insights.
? Get Plai Lifetime Deal
Top Key Features of Plai
Quick and easy ad launching
Multiple platform integration
A/B testing for improved results
Detailed analytics and insights
Customizable ad options
AI-powered campaign management
Seamless team collaboration
Automated retargeting
Discover trends in your industry Forecasting and planning tools
Find new keywords and get search volume
Analytics and insights for Google Analytics, YouTube Channel, Facebook Page, and Google Ads
Pros:
AI-powered ad management tool that simplifies your ad campaign management
Launch targeted ads in seconds, without any prior experience required
Handles all aspects of your ad campaign, from bidding and remarketing to analytics and A/B testing
Works with the ad platforms used by Google, Facebook, TikTok, YouTube, and more
A/B test different campaign combinations to identify the best strategies for your business
Uncover valuable insights from your analytics data for better business decisions
Cons:
Plai may not be suitable for larger businesses with complex advertising needs
Pricing
Brands, Agencies, & Startups $27 per month.
Plai for White labeling is $297 per month.
Plai for Enterprise plan contact with them.
EmailWritr – High Converting Email Writing Tool
Revolutionize your email marketing game with EmailWritr, the ultimate solution for crafting high-converting emails effortlessly. Whether you're a seasoned marketer or a newcomer, EmailWritr is your secret weapon to skyrocket your email campaigns. Say goodbye to writer's block and hello to engaging emails that captivate your audience.
With EmailWritr, there's no need to download or install any software. It's a cloud-hosted platform that's accessible anywhere, anytime. Even if you have zero copywriting experience, EmailWritr has your back. Just tell the software what you want to promote, and it takes care of the rest, turning your ideas into impactful emails that drive results.
Unlock the power to create custom email sequences tailored to your product, service, and audience by answering a few simple questions. There are no limits on the number of email sequences you can create. Whether you need one per day or a thousand, EmailWritr accommodates your needs. Plus, you can choose from a wide range of email types, making it suitable for various industries and niches.
Currently, EmailWritr is offering an exclusive lifetime deal campaign, providing you with the chance to secure your copy before this exceptional offer concludes. Ensure you don't let this opportunity slip away to elevate your email marketing efforts at an incredibly competitive rate.
Top Key Features:
Cloud Hosted
Easy-to-Use Interface
Unlimited Custom Email Sequences
Access to All Email Types
DFY Email Sequence Library
Pros:
Effortless Email Creation
Versatile Email Templates
Time-Saving Solution
Global Outreach Capabilities
Cons:
AI Limitations
Limited Template Customization
Pricing
Premium: $ 29 /Month
Expert: $ 39 /Month
Enterprise: $ 59 /Month
Optinly – Drag & Drop Popup Maker
Optinly is a drag & drop popup maker that allows you to create smart email capture popups to engage visitors and monetize traffic. With Optinly, you can create newsletter popups that are triggered by specific events, such as when a visitor arrives on your website or when they click on a certain element.
You can use Optinly to make exit-intent newsletter popups capture emails, which are triggered when a visitor is about to leave your website. With Optinly, you can also A/B test your popups to see which version is more effective.
Optinly is the perfect tool for website owners who are looking to collect emails using a newsletter popup. With Optinly, you can create beautiful, responsive email popups that are highly effective in capturing leads and boosting conversions. The best part about Optinly is that it is extremely easy to use, and you can get started in minutes without any prior experience.
Optinly popup maker includes 100+ premium templates, exit-intent technology, 6 pop-up form types, and 12 email service provider integrations. Also, Optinly provides analytics dashboards with detailed insights into your traffic and conversions.
The easiest way to connect multiple marketing tools is to use a third-party integration solution. These tools allow you to connect your email marketing platform (like Mailchimp), your autoresponder service (like AWeber), and your CRM system (like Hubspot). There are many different integrations available, so you can choose whichever one is most effective for your needs.
Features of Optinly
100+ ready templates
Drag & Drop Builder
Exit Intent Popups
Spin the Wheel
Countdown Timers
Analytics dashboard
Advanced Targeting
Integrations: Zapier, Pabbly Connect, Integrately, and Pixabay
Pros
Lower price compared with other tools
Free version available
50+ eCommerce Integration like Shopify, WordPress, Magento, Webflow, BigCommerce, WooCommerce, Instapage, Prestashop, and much more.
Cons
1 Website limit (Free user)
2500 Monthly views limit ( Free User )
Standard Support ( Free User )
Pricing
Free: $0 forever
Starter: $9/Monthly plan and $7.2 for the yearly plan
Growth: $25/Monthly plan and $20 for the yearly plan
Alternative to: OptinMonster, Poptin, and Bloom
ClickUp – Collaboration Tool
ClickUp is an all-in-one solution for communication, collaboration, project management, and task management. This powerful cloud-based collaboration tool enables teams to work together seamlessly while saving you time and money.
ClickUp has an intuitive interface that makes it easy to get started. It has a simple, yet powerful set of features that allow you to manage your tasks and projects in a way that works best for you. You can also collaborate with your team members and work with them from anywhere in the world. You can share files, edit documents, comment on posts, and do many other things in a more effective and efficient way.
This tool allows you to manage all of your team members. Moreover, you can create Whiteboards, workflow automation, Custom Fields, and monthly goal using it. From beginning to end, it lets you follow your whole work process. This tool has the ability to Advanced Time Tracking, Granular Time Estimates, Workload Management, and Timelines & Mind Maps.
Using it, you can track more details of each of your projects. You can use this tool to get feedback, assign tasks, and review the team member's work. Moreover, ClickUp allows you to add team members to the app. And those members can monitor what you are doing, or you can schedule a plan with them.
Top Features Of ClickUp
Task and resource management
Support for agile methodology
Customizable reports and workflows
Workflow automation
Timesheet tracking
Team collaboration
Task Management
Pros:
Easy to use
Email integration and mobile access
Cons:
Complexity in a system setup
Don't have available tutorials to direct you
Pricing
Free Forever: Free
Unlimited: 5 Per member per month
Business: 12 Per member per month
Business Plus: 19 Per member per month
Enterprise: Custom Pricing
Jasper AI
Jasper AI, for its copywriting processes, uses artificial intelligence and machine learning to create content automatically. This tool can quickly generate compelling and appealing content copy for advertisements, marketing emails, blog posts, web landing pages, social media posts, etc.
In less time, you can generate five times more output for your business using this AI-based copywriting tool. It helps to grow your business by creating high-quality content and streamlining the writing process.
This AI writing assistant tool is mainly geared towards copywriters, marketers, content writers, or business agencies who are aiming to write high-converting content. The prebuilt templates of this tool include product descriptions, social posts, emails, stories, ads, and more.
Also, it allows you to write blog posts and long-form content. Jasper AI is the best option if you are looking for a way to quickly generate more content for your business or automate your content writing workflow.
Top Features Of Jasper AI
Jasper AI generates 100% original content
Write emails including their subject lines
For creating longer articles, it provides long-form assistance
It provides a vast content framework
Create the video's scripts and much more
Pros:
Simple and clean interface
Boost the overall content creation process
Cons:
Repetition of words
Using GPT-3
Less user intent in content
Need to spend extra money to check plagiarism of your content
Pricing
Starter: Starting at $40/month (35K Words)
Boss Mode: Starting at $82/month (100K Words)
Business: Custom Pricing
Zapier
Zapier automates the process of connecting apps so that you can automate the tasks you do every day. It has over 5,000 apps built-in so you can connect all the apps you want to.
The software allows you to connect apps to each other with a single click. In just a few clicks you can set up over 5000+ web apps. You can build workflows that can be triggered by any event in any app.
And it's all done by zapping your data between the apps, so you don't have to think about it. For example, if you have an account in Dropbox and a spreadsheet in Google Sheets, you can automatically sync the content and share your data with whomever you want. Or, you can have your personal contacts on Facebook send you emails based on your activity in Google Calendar.
You can even use it to create powerful integrations between any two apps you use every day. You can choose to automate any workflows or create custom workflows to suit your needs.
Zapier aims to make cross-functional processes and systems more streamlined and efficient. It lets you pay attention to your daily tasks. It integrates different applications together and then automatically moves the information between the users. As a result, the users will get more time to focus on their other business tasks.
Zapier provides you with 5000+ app integration solutions so that you can get your work done in less time. This tool allows you to build your workflow automation without writing code or depending on the developers for integration.
Zapier integration tool automates specific tasks by connecting your apps. It connects one app to another app and this tool allows you to export and import data. Also, the users can easily access their task history using this tool.
Zapier is very user-friendly and allows easy integration with different tools. The drag-and-drop functionality of it makes everything easy to connect.
Top Features of Zapier
5000+ apps intregations
Tasks and dashboard
Connect accounts
Zaps creation
Powerful automation
Pros:
Convenient for users
Extensive task history
Good customer service
Cons:
Needs to improve the RPA solution
Expensive pricing
Pricing
Free: $0 (100 tasks /monthly)
Starter: $19.99 (750 tasks /monthly)
Professional: $49 (2000 tasks /monthly)
Team: $399 (50k tasks /monthly)
Team: $799 (100k tasks /monthly)
Zoho
Zoho is a Cloud Software Suite and SaaS Application. It provides complete customer relationship management (CRM) Solutions. It is a comprehensive business management tool that helps users with everything from productivity to marketing to finance and HR. It is the most exclusive option for those who want to steer their business to more growth by acquiring the new CRM platform.
Zoho includes world-class lead management tools and contact, which greatly helps to grow your business. Moreover, it ensures best-practice modeling, automated workflows, and robust AI-driven solutions. With minimum human input, this tool allows you to convert your business prospects into actual sales.
Simply it gives you a better understanding of your business product's market. You can focus on your business's high-quality leads due to Zoho's powerful analytics engine. Zoho CRM comes with solid automation and email marketing features that ensure higher growth for your business.
However, this saas tool has a built-in live chat system. Therefore you don't require to buy any additional live chat software for your business purpose. Also, some services are Email & Collaboration, sales & marketing, human resources, marketing automation, security & IT management, etc.
Top Features Of Zoho
Lead management, CRM workflow management, and the Website form management
Sales and marketing integration
Quota management and sales forecasting
Sales stage and probability analysis
Lead generation and qualification
Pros:
Seamlessly integrates with other Zoho products
Comprehensive reporting
Cons:
Lots of customization requires to get started with it
Limited customer support
Why you should use the saas tools?
There are a number of reasons why you should use the saas tool:
The cost of using the saas software is low and it's very easy to use.
The saas software is flexible and can be used for a variety of purposes.
The saas product is an affordable way to grow your business.
The saas tools are easy to use and have a wide range of features.
Access the SaaS-based product form anywhere you just need an internet connection.
Conclusion
Some of the best SaaS software and tools on this list are actually web-based applications. The reason why they are called SaaS software and tools is that they are cloud-based applications. They are available online and you can use them from anywhere. This is very convenient for busy people.
In conclusion, the best SaaS software and tools are those that can be used in a variety of ways. It's not just about the tool itself, but what it can do for you. That's why I've put together this list of the best SaaS software and tools to help you grow your business.