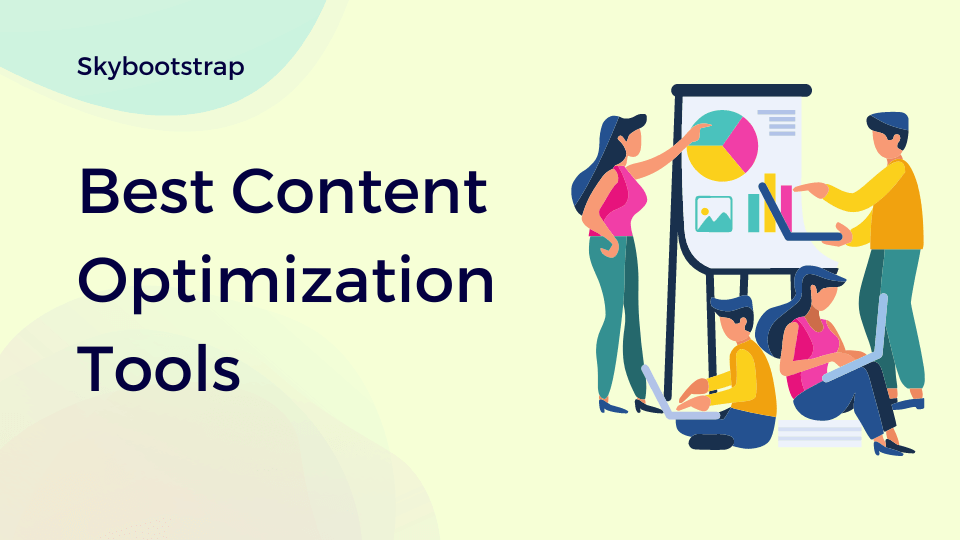 To get higher traffic on your website you have to write search-engine-optimized content. It is not so easy to write SEO-friendly content. You need to research the keywords and place them in your writing. To do it so easily there are so many content optimization tools.
These tools help you to write proper content to rank it on google. So today I will tell you about the 5 best content optimization tools to rank on google. Let's dive into the details. 
Surfer SEO
SurferSEO is a tool that helps you to write SEO content. There is also a keyword research tool with it. It analyzes the content of a page against 500+ on-page signals.
The specialty of the Surfer SEO tool is, it researches in depth before writing your content. You will get so many features in one platform together. It will help you in keyword research and finding LSI keywords.
It will provide you with unique data. So your content will be 100% unique. There is also a content editor which is awesome. The pricing of this tool is reasonable compared to its competitors like Clearscope.
Surfer SEO is a perfect SaaS tool to grow your website in a short period. This tool also gives you unique and relevant information in your content that makes your content more reader-friendly. So you must try it.
Benefits of Using Surfer SEO
It does deep keyword research, so there will be top-ranked keywords in your article.
The information will be unique.
It will also find LSI keywords for your content.
Top Features of Surfer SEO
Content Editor: There is a built-in content editor in SurferSEO. You can edit your text so easily. It will give you suggestions also.
Content Audit: Using this feature you can edit your old content which is not ranking. It analyses the main keyword SERP, and URL and gives you so many suggestions to improve your article.
Content Planner: Sometimes you become confused about that, where from the content you can start. SurferSeo will help you with its content planner feature.
Keyword Research: The keyword research of SurferSeo is so good. It does in-depth research which helps your content rank higher on google.
Why Is SurferSEO Good?
SurferSEO is a perfect tool for you to write SEO-friendly content. The keyword research features always provide you with the top keywords, so it becomes easy to rank your content.
Who Is This Tool For?
The tool is for those who want to write effectively optimized content.
Pros
Easy to use.
It helps you to find the best LSI keywords.
Content Optimize
Content Audit
It also helps you to build the content structure.
Cons
Not better than the competitors.
Keyword research is average.
Pricing
BASIC $59 /month
PRO $119 /month
BUSINESS $239 /month
ENTERPRISE Custom price
When you pay annually you will get 17% OFF:
BASIC: $49 /month
PRO: $99 /month
BUSINESS: $199 /month
ENTERPRISE: Custom price
SurgeGraph
SurgeGraph is a comprehensive SEO tool that offers industry-leading keyword research, content planning, and optimization features to help you boost your rankings and increase organic traffic.
With SurgeGraph, you can take your SEO efforts to the next level by finding the perfect keywords for your content, planning and organizing your keyword strategy, and writing optimized content with real-time scoring and suggestions.
SurgeGraph is the key to unstoppable traffic, greater instant visibility, and a high ranking. It maximizes your research efficiency with its Bulk Keyword Research. It uses Bulk Keyword Data to optimize research efficiency by researching up to 500 keywords.
The SurgeGraph will allow you to do a competitor analysis and keyword research effortlessly. SurgeGraph benchmarks your content against the top-ranking content and helps to score it in search results. 
This tool, with seamless integration, adds your favorite keywords effortlessly to the planner. You can research keywords for multiple clients using the bulk keyword research features of SurgeGraph.
It not only helps you in keyword research but also helps to write and optimize high-quality content with the Semantic Writer. It benchmarks your content against the top-ranking one to score your content. This tool with Contextual Terms builds better context to target the actual audience.
Moreover, SurgeGraph analyzes the popular questions to gain your target traffic's insight and discover the content ideas. SurgeGraph greatly strategizes your content to target the perfect audience for it correctly.
Its keyword management features organize your needed keywords and evaluate them. Most importantly, this tool selects relevant and high-quality keywords to rank the content.
Top Features of SurgeGraph
Industry-leading keyword research 
Great SEO recommendation content writing 
Easy and effective content planning 
Bulk keyword research maximizes research efficiency 
SERP analyzer
AI content writer
Content Optimize
Content Strategy
Pros:
Save keyword research time
Maximize content marketing efficiency
Cons:
Pricing
Basic: $29/month
Premium: $59/month
Agency: $69/month
Lifetime: $699/One-time payment
Writerzen
Content creation is becoming trending day by day. Everyone is trying their luck in it. There are so many SEO tools in the market. But to rank your content, you should use one of the best tools. Writerzen is that kind of a tool and it is the right tool for you. I'll explain why.
Writerzen is a content creation tool that will help you to make unique content for your site. This can research specific keywords. You will find so many features in one platform. You will get Topic Discovery, Keyword Explorer, Content Creator, A.I. Assistant, and Plagiarism Checker.
Sometimes you can find plagiarism in your writing which is not good. Because if there is so much plagiarism, your article won't rank in google. You will find plagiarism checkers in Writerzen so that you can check it easily.
This was launched in the past year and it became popular in a few months. Because it offers you so many features and the interface is easy to use.
Benefits of Using Writerzen
You will get so many tools in one place.
This blog post optimization tool is an easy-to-use tool. So you won't face any difficulty using it.
There is a keyword explorer, so you can find the top keywords.
Top Features of Writerzen
Topic Discovery: Sometimes it becomes difficult to find the next content for your website. So Writerzen will help you to find the appropriate topic for your blog.
Keyword Explorer: There is a keyword explorer feature in this tool. It helps you to do keyword research in a short time. So you can use the possible keywords in your article.
Plagiarism Checker: Writerzen comes with a built-in plagiarism checker. You can check the plagiarism of your content with this tool. This is an essential feature for a content writer.
Why Is Writerzen Good?
Writerzen is a perfect tool for content writers because there are so many things under a platform. You will get keyword researcher, topic finder, plagiarism checker and so many things here in Writerzen.
Who Is This Tool For?
Writerzen is an AI tool to optimize your content easily. Bloggers, programmers, content writers, marketers, and designers can use it.
Pros
Tools are easy to use and easily accessible.
Affordable pricing than other AI tools.
Awesome UI interface
Cons
Not as good as Frase or MarketMuse.
Average result in plagiarism checker.
Pricing
Basic Plan: $39 Monthly
Standard Plan: $59 Monthly
Advanced Plan: $99 Monthly
You will get 30% off on Annual Plans payment
MarketMuse
If you are looking for a powerful SEO tool, then MarketMuse is for you. If you need to write so many articles regularly, you can use this tool. It will help you to create quality content in a short time.
MarketMuse is a keyword planner and AI content-making tool created in 2013. It uses artificial intelligence (AI) and machine learning (ML) in content analysis.
It will do keyword research, competitor research, topic suggestion, etc to make effective content. It will optimize your content so perfectly.
Benefits of Using MarketMuse
You will get an effective result.
This will research your competitors' writings too.
The keyword research of MarketMuse is so good and deep.
Top Features of MarketMuse
Research: You just need to type a topic name, and MarketMuse will research everything and give you a report on it.
Compete: MarketMuse shows you the data of your competitors. And it organizes the information according to that. So it helps you to rank top from your competitors.
Optimize: Just drop your content in MarketMuse, and it will optimize your content properly. It will make your content high quality and it ranks higher on google.
Why Is MarketMuse Good?
MarketMuse is good for its competitor research. It researches the content of your competitors and helps you to make better content than them.
Who Is This Tool For?
Content writers and those agencies that produce so much content in a short time can use this tool.
Pros
There is a competitor research system.
It gives you a list of top keywords to make new content.
It can produce so much content in a short time.
Content Clusters and Planning
Cons
This tool is pretty expensive.
Not good for creative writing.
Pricing
Free: $0 / Month ( 10 queries per month)
Standard: $600/Month ( 100 queries per month )
Premium: $12000/ Year ( Unlimited queries )
Clearscope
The Clearscope is a popular AI content optimization tool founded in 2015. It works with big companies interested in content writing.
As you all know, an optimization tool helps you to optimize your content, clearscope will also help you to optimize your content and get a higher rank on google.
The Clearscope will give you a content report based on the quality of your submitted content. Then you can change the failings of your content following the report.
It does keyword research so perfectly and uses easy-to-rank keywords in your writing. It also increases the readability of your content.
Benefits of Using Clearscope
The keyword research feature helps you to find the low competition keywords.
It will provide you with a content report.
Optimize your content properly.
Top Features of Clearscope
Outline Making: You can make your content outline using a Clearscope. It will help you to use attractive and relevant headings and subheadings.
Keyword Research: Using the keyword researcher, you can find possible keywords. If you use low-difficulty keywords in your writing, then it will help you to rank top on google.
Competitor: If you click on the 'Competitor', this tool will show you 30 top results of your competitors. Then you can analyze them.
Why Is Clearscope Good?
The Clearscope is good because of its keyword research feature. There is also a content report feature. Because of these fantastic features, Clearscope is so popular.
Who Is This Tool For?
This tool is for those who write content regularly.
Pros
In-depth keyword research.
Content report of every content.
Do well on competitor research.
Cons
Pricing
Essentials: $170/Month
Business: $1200/Month
Enterprise: Custom pricing
Final Words
In this article, you just knew about the 5 Best Content Optimization Tools to Rank on Google. Now if you need to optimize your content, use any of these tools. It will be very helpful for you to rank your content on google.