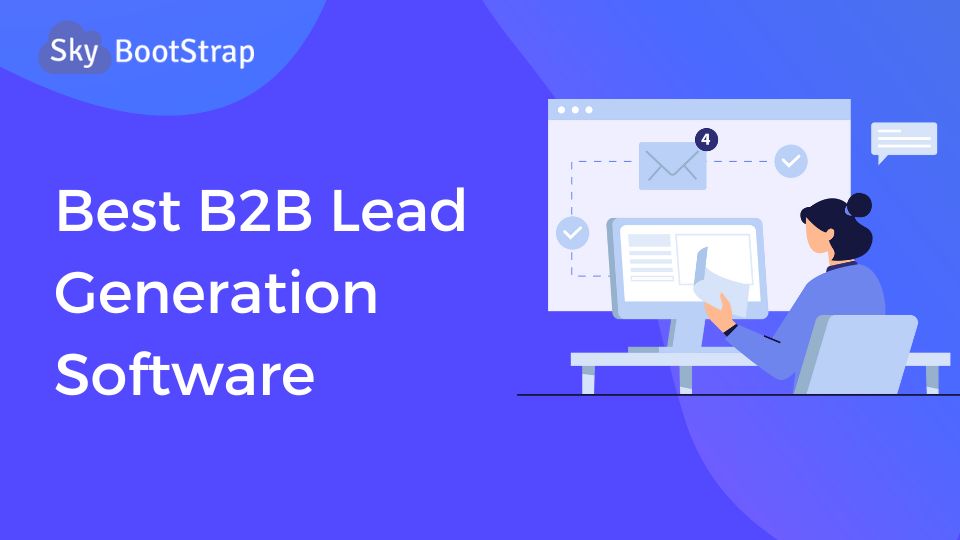 Business-to-business B2B lead generation software is the most effective way to find sales leads to potential customers. It helps you identify potential buyers by tracking their activity and interests online and then using this data to reach out to them.
As a result, you'll be able to send a targeted message to the right person at the right time and get the best response possible. Here are 10 of the best B2B lead generation software solutions on the market today.
What Is Lead Generation In B2B?
Lead generation is the process of finding potential leads for your business. It's the first step in the sales funnel. Through B2B lead generation saas tools organically, B2B marketers drive potential customers to their 5 organizations. Different inbound marketing strategies contains in it. All the marketing tactics aim to build awareness, visibility, and interest in a specific target audience.
Some of the B2B lead generation methods include blog posts, opt-in forms, popup newsletters, landing pages, social media posts, SEO (Search Engines Optimization), etc. Every method is very important for sales and marketing teams because they want to find potential buyers.
How To Find B2B Leads?
Finding the B2B lead is most important for any marketing practice. However, finding greater volume B2B leads will not help you at all, rather you must find a qualified lead. But unfortunately, finding qualified B2B leads is quite challenging.
But below, we will tell you some of the effective ways to find B2B contact information. And those ways are:
Using lead generation software & tools
Set up live chat on your website's
List your company name on directories
Use online forums to find more leads
On the Q&A websites, answer relevant questions
Get online reviews as much as possible
On Twitter ads or Facebook ads, use lead generation google Ads, etc.
Recommended: Software & Tools for B2B Lead Generation
For growing your business, you need to use a lead generation tool. Lead generation is not about only the audience visiting your site. It's more than that. Lead generation is about converting your casual traffic to organic and loyal customers by collecting their contact info. It's a tough job. 
The lead generation software and b2b contact database providers help the site owners to capture their potential customer's contact information. These tools help to find only those customers interested in your company's service and product.
However, the following 8 Lead generation tools for generating leads will make this tough job more manageable. So let's discuss the details of these tools: 
Clodura AI – Leadgen Automation Platform
Clodura AI is a unique AI-powered sales intelligence & lead gen automation platform. It gives you access to the most verified B2B data with intent, 12M direct dials, 600M contacts, email campaigns, and org charts. This is an all-in-one lead platform for your lead-gen process.
You will access the world's largest B2B database through this platform. This platform is best for marketers, sales managers, and recruiters. Coldura.AI is the best Leadgen Automation Platform in the market today.
Clodura AI has the most extensive mobile number collection in the world. 12M mobile numbers are available on this platform. Furthermore, it offers you the most advanced Anti-spam Email sender.
The email sender allows you to send emails that reach the person's inbox rather than spam boxes. You can configure your email account on this platform. And, right away, you can start sending emails.
Clodura AI offers comprehensive advanced analytics for your campaign. The analytics contains the readymade list of all soft leads. You should further follow up on these leads with LinkedIn and Calling.
Clodura AI also offers you access to over 18M company's Org Charts. The sales intent of this platform allows you to identify those companies which are looking for particular services.
Moreover, the sale triggers of this platform on a daily basis track each company. So, Clodura AI is a superb platform that provides you with many facilities.
? Get Clodura AI Lifetime Deal
Top Features of Clodura AI
Provide access to over 220M contact, including mobile phone numbers and emails
Most advanced Anti-spam Email sender
Provide full advanced analytics
Access to 18M company's org charts
600M verified B2B emails
Readymade list of all soft leads
Chrome Extension
Email Campaigns
Sales intelligence tool
Popular CRM Integration: Hubspot, Zoho, Freshsales, Pipedrive, Insightly, Salesforce
Automated Sales Sequence
Drag and Drop Email Template Builder
Company Insights
GDPR-compliant
Pros:
Greater sales intent
After unlocking an email ID, direct dials available on the platform
Free plan available
95% accuracy
12/5 email and chat support
Cons:
1:1 Training session only for paid users. But provide lots of videos for free users.
Clodura.AI Pricing Plan
Free Forever: $0
Starter: $49 with Unlimited Contacts ( $45 for yearly payment )
Enterprise: $99 with Unlimited Contacts ( $90 for yearly payment )
Postaga
Postaga is an all-in-one outreach platform. Using Postage you can generate leads for your outreach campaign. You can use the tool to collect your content partner's contact information to make an easier your outreach campaign. Postaga will automate your website's link-building process. It uses Artificial Intelligence to build sales outreach campaigns.
Postaga recognizes all the key contacts, outbound links, and emails and analyzes your content. Moreover, this software makes your emails more personalized with the help of particular key advice snippets. Postaga aims to automate your link-building outreach.
Using this tool, users can get the right link-building opportunities to analyze and promote their content. It offers excellent link-building opportunities and saves time. Postaga enables users to set up outreach campaigns, get the right contacts and monitor their progress.
Most importantly, this tool allows you to do all these things in one platform. The automation of this tool is truly designed to save time for users. Moreover, it allows personalized and highly leveraged emails specifically for the backlinks building purpose and provide a built-in CRM solution to manage all contacts.
? Get a 50% discount using this coupon: friends50
Top Features of Postaga
GDPR complaint
Send Cold Email
Sales generation Outreach
Personalized marketing opportunity
Conversion rate optimization
Content marketing
Customer data platform
Find Potential Content Partners
Pros:
It helps to increase your overall outreach campaign
Build relationships with content partners
Cons:
Pricing
Pro: Starting at $84 / Month
Agency: Starting at $250 / Month
LeadClosure – Getting Targeted Leads
LeadClosure is a lead generation software that helps you generate targeted leads by analyzing any targeted website and its content. It can help you find the most relevant leads based on your keywords and specific search criteria for your business.
LeadClosure is a powerful b2b sales lead generation software that allows you to collect and manage leads more efficiently. It's a windows based software and built with a simple interface and a lot of features, so you can easily find and collect more leads.
If you purchase a premium add-on, you will be able to extract Emails and phone numbers from any website that is included in the public contact information and indexed by Google. It is a proven lead generation system that will help you get more leads and increase your sales.
LeadClosure is now available on AppSumo with a lifetime deal.
? Get LeadClosure Lifetime Deal
Features of LeadClosure
Email finder
Phone number finder
Search on targeted keywords
Exclude keyword
URL scraper
URL to email scraper
Custom email domain
Targeted source (Premium Addons)
Pricing
Free to use: $0
Regular Price: $49
Lifetime Access for One-Time Payment: $29 Only
Linked Booster – Linkedin Lead Generation Tool
Linked Booster is an automated lead generation, CRM system for Linkedin that helps you quickly build your lead list, increase sales and retain more clients.
Linked Booster CRM helps you grow your lead generation pipeline while building a relationship with your customers. It will show you which of your connections are most likely to turn into real sales opportunities, helping you to choose the best time and method to reach them.
Linked Booster CRM can be used for all types of businesses: from small businesses to large enterprises level businesses. It can be used for any type of business, including the following: Financial Services, Retail, Healthcare, Travel, Education, Real estate, Construction, Automotive, Restaurants, Non-profits, and more.
The Linked Booster will connect automatically with your targeted audience, visit their profile and collect your prospect's Linkedin information. All leads are easy to manage, filter, and sort out your connection. Also, you can export them to a CSV file with one click. It provides 500+ pre-ready message templates.
Top Features of Linked Booster
Detailed information for 1st-connection
Custom tags note, add/edit/remove tag
Auto-visit and Auto-connect profiles
Create lists
Export CSV file
500+ Message templates
Pros:
Save huge time and money
Increase revenue
Reduce hassle
Using AI technology
Cons:
No free version is available
Only 7-days Trial to check
Price
One Month: $16.99 ( 6% OFF for the first month )
Three Months: $46.99 ( 9% OFF for the first 3 months )
One Year: $129.99 ( 38% OFF for the first year )
Getprospect
Lead generation can be a daunting task. But when done right, it pays off in the form of more sales, and greater customer satisfaction. Lead generation can take many forms. From cold email outreach to LinkedIn targeting and influencer campaigns, it doesn't matter how you generate your leads. getprospect can help you streamline your lead generation processes and get you started.
The biggest problem of any business is identifying the people to whom you need to pitch your products and services. With this software, you will be able to create a list of targeted prospects for sales, lead generation, and recruitment.
Features of getprospect
Email finder by name
Search emails of certain people in companies
Email finder by domain
Search email addresses by company domain
Bulk email finder
Thousands of emails in one batch
Bulk email verifier
Pricing:
| | | | | |
| --- | --- | --- | --- | --- |
| Free | Starter | Basic | Plus | Pro |
| 50 valid emails | 1000 valid emails | 5000 valid emails | 20000 valid emails | 50000 valid emails |
| 100 verifications | 2 000 verifications | 10 000 verifications | 40 000 verifications | 100 000 verifications |
| Unlimited accept all emails | Unlimited accept all emails | Unlimited accept all emails | Unlimited accept all emails | Unlimited accept all emails |
| Unlimited users | Unlimited users | Unlimited users | Unlimited users | Unlimited users |
| $0 / Monthly | $49 / Monthly | $99 / Monthly | $199 / Monthly | $399 / Monthly |
Hunter.io
hunter.io is a popular lead-generation tool for those businesses and individuals who are looking to build a professional contact information database. Hunter effectively finds your professional email address in contrast to webmail like @yahoo, @hotmail, @Gmail, etc.
Also, if any small or medium size company, marketer, freelancer, or recruiting company like to verify the email address, they can do it using hunter.io. Thus this tool can greatly help you to save your manual research time.
Hunter fined the professional email addresses by scouring the public webpages which are publicly available. Thus it ensures full data transparency. However, using this tool is perfectly legal, and its priority is data transparency.
What Data hunter.io Can Find?
Along with emails, hunter offers additional data so that you can make better decisions by analyzing the data you collected. When data is available publicly for that email address, hunter.io provides the following additional information like Last name, First name, Organizations,Department,Twitter handle, Position, LinkedIn URL, Confidence score, Phone number, etc. The additional data with the email address helps you decide which emails are most likely to respond to the outreach request.
Features of hunter.io
Domain Search
Email Finder
Email Verifier
Outreach
Campaigns
Integrations
Pricing:
| | | | | |
| --- | --- | --- | --- | --- |
| Free | Starter | Growth | Pro | Business |
| 25 Monthly searches | 500 Monthly searches | 2500 Monthly searches | 10 000 Monthly searches | 30 000 Monthly searches |
| 50 Monthly verifications | 1000 Monthly verifications | 5000 Monthly verifications | 20 000 Monthly verifications | 60 000 Monthly verifications |
| 1 Email accounts | 5 Email accounts | 10 Email accounts | 20 Email accounts | 40 Email accounts |
| 500 Recipients per campaign | 2500 Recipients per campaign | 5000 Recipients per campaign | 7500 Recipients per campaign | 10 000 Recipients per campaign |
LinkedIn Sales Navigator
One of the best tools for generating B2B leads is this LinkedIn sales navigator. Once you learn the effective use of this tool, your lead-generation process becomes more accessible. In addition, this tool helps the sales representative to find, connect, contact and build a strong relationship with potential buyers.
By using the network data of LinkedIn, you can get your potential buyer's all information and can engage with the probable leads. Linkedin sales navigator offers a trial period of 30 days.
The Use of LinkedIn Sales Navigator to Create Leads
For LinkedIn b2b sales lead generation, you have to use the sales navigator tool effectively in the following ways:
Use advanced-level filters to search
Make a list of leads
Connect to the leads and send emails
To follow up, use the alerts
Export all the leads to CSV
Pricing: Starting as $50/month
D7 Lead Finder
You can find leads globally across any country or category using the D7 lead finder. In multiple formats, you can export all the leads. Just input the keywords and location, and the D7 lead finder will find all the leads for your business.
However, through this tool, you will find the following things:
Per search will result in up to 1200 business leads
Website link
Full business name
Email address
Business email address
Separate postal address based on the City, Street, ZIP, and country
In 3 minutes or less, you will get the results
Social Media Handles links like LinkedIn, Instagram, Twitter, Facebook, etc.
Track the Google Remarketing, or Facebook Pixel user leads
CSV/PDF/Excel/Print Export options
Get worldwide leads etc.
Pricing of D7 Lead Finder:
Starter: $29.99
Agency: $54.99
Professional: $119.00
Snov.io
Snov.io is the most popular lead generation platform. It comes with a lot of features like an Email Finder, Email Verifier, Drip Campaigns, Email Warm-up, Sales CRM, and Email Finder Extensions using which you can search result pages. Also, you can save emails and company website prospects. Thus, activate the Email Finder and quickly contact the target list.
Short Guide to Use the Snov.io Email Extension
Following the steps below, you can use this tool to generate leads.
Install Email Finder Extention
Pin to dashboard
From the company website collect the prospects and emails
From the Google search results, collect the emails
The pricing plan of Snov io
S: $33/month
M: $83/month
L: $158/month
XL: $308/month
XXL: $615/month
LeadFeeder
Leadfeeder identifies the visitors on your website and turns them into your organization's sales lead. This tool works in a few ways to track and analyze the traffic on your site. Then, following a particular process, this tool converts the potential lead into a usable lead.
You can use the Leadfeeder to generate a lead & custom filter. And this tool helps to integrate the sales used to look for potential clients. In simple words, LeadFeeder is a tracker of your website visitors that helps to generate your business leads.
The cloud-based platform of this tool will show you the details of your visitors, like which companies or individuals are visiting your profile and more.
The features of Leadfeeder are:
Turn anonymous traffic of your site into the actual company clients
Reveal the company's exact behavior by visiting your site
With leadfeeder's static and dynamic IP database, identify the remote workers
Pricing of Leadfeeder
Free Version: €0/Month ( Up to 100 leads )
Premium starting at € 99 /Month
Conclusion
The B2B lead generation is not only collecting contact information from your audience. It's more than this. The lead generation in B2B also contains the process of collecting the visitor's information to drive sales. You require the right tools to generate leads.
So pick the best tool that will help you nail your web-based lead generation's every aspect. You have the freedom to choose which one is the best tool for you. So carefully select the best one that will generate more leads, convert more leads to customers and make more sales and more revenue.