In this post, We are going to describe to you a few different email marketing tools and software that you can use to automate your emails, increase conversions, and drive traffic to your website.
Marketing is an art and email marketing is a part of digital marketing. If you don't know where to start then you have come to the right place. We will try to describe all the tools and software needed to successfully grow your business through email marketing.
There are a lot of resources available to help you create the best email marketing campaigns for your brand. This guide will make it easy for you to find the Email Marketing Tools and Software that can help you with your campaign.
Our Recommendations: Best Email Marketing Tools and Software
If you want to increase sales and grow your business, you must have an effective email marketing strategy. So today we are going to show you what tools and software you can use.
HubSpot Marketing Hub – Marketing Software
HubSpot is a marketing, sales, CMS, and market-leading CRM solution. It offers extensive features under sales, marketing, operation, service, and CRM hubs. The HubSpot Marketing platform helps companies to grow better. It is designed to help marketing teams align sales and foster sales emblements. Also, it aims to optimize your inbound business goal and boost the ROI.
With HubSpot, customization is simple, customers come first, and teams remain unified through the connected CRM. This tool makes it easy for all those companies who want to work together. From sales to marketing to customer service.
HubSpot is a powerful and all-in-one solution for any type of business, but together they work better. For running a successful and effective inbound marketing strategy, the HubSpot marketing hub offers everything. Ultimately it leads to growing traffic, high conversions, and increasing ROI.
Top Features of HubSpot Marketing hub
Email integration and tracking
Outrank the competitor and build the search authority
Ad retargeting & management
Social media management
Omni-channel marketing automation
Marketing automation
Video and live chart
Pros:
Powerful segmentation option
Powerful automation
All solution in one place
Free version available
Cons:
Compared to the other solutions price is very high for premium services
Premium service not suitable for newbie
Pricing
Free: Free plan available
Starter: Starting at $45/month
Professional: Starting at $800/month
Enterprise: Starting at $3600/month
Postaga – AI Powered Sales Outreach Platform
Postaga is an all-in-one solution for building outreach campaigns and a cold email sending tool, which helps increase website traffic by building quality links. The Postaga AI-assisted platform enables you to build the entire outreach campaign within a few minutes.
Simply Postaga platform helps you to get contacts and find outreach opportunities. Moreover, this tool allows you to send your email sequences by building personalized outreach emails.
The Postaga AI-Powered Platform is the world's leading SaaS toolset for sales outreach and link building. It delivers the most effective approach to sales outreach and content distribution that drives revenue and business growth. Postage is focused on making it easy and affordable for the Outreach campaign to generate leads and build relationships with prospects.
For small businesses, Postaga greatly helps expand its customer base, and indeed it helps to save a huge time. Postaga, with its Artificial Intelligence, promises to make everything easy for you and increase your site's traffic.
However, the opportunity finder of Postaga automatically finds the best opportunities for your business. Based on your running campaign, this software aims to ensure more shares, backlinks, and promotions for your business.
? Get a 50% discount using this coupon: friends50
Top Features of Postaga
Backlink and campaign management
Brand control
Link analytics
Outreach assistant
Automatically personalize emails
Email sending
Email tempaltes
Pros:
Analyze content easily
Quickly find the contact
Cons:
Tricky to manage each email template's variable for the first few days
No free plan is available but they provide 14 days trial to check the tool
Pricing
Pro: Starting at $84 / Month
Agency: Starting at $250 / Month
tinyEmail – AI Email Marketing Software
tinyEmail uses the power of AI to send perfect emails automatically. It is an AI-powered email marketing tool. The AI-generated copy and subject lines can double the open rate of your email. The open AI-powered powerful tool is tinyEmail, which supercharges your marketing copy.
The copy starts with the AI-generated subject line. tinyEmail combines powerful machine learning and property data to double the open rate of your email. For all sizes of businesses, one of the favorite email marketing tools is tinyEmail.
The ground-breaking AI marketing manager of tinyEmail creates a personalized email that you have never seen before. By building the messaging segments, this tool puts your data to work for you. The message is tailored perfectly and automatically to your brand.
tinyEmail processes your critical business data. And using the data, this tool constructs enormously powerful and incredibly easy emails. It is indeed a simple tool for building powerful emails. This tool lets you understand better what produces more revenue for your business.
tinyEmail automatically uses URL-based attribution to track revenue and sales without manually inserting the tracking links. The real-time analytics will give you a better insight or understanding of what marketing strategy is working for you. You will also understand where to improve your email marketing to increase your business revenue.
? Get tinyEmail Lifetime Deal
Top Features of tinyEmail
AI-powered messaging
Groundbreaking automated personalization engine
Incredibly easy email construction
Powerful email editor
World's largest library of designer templates
Pros:
Create a powerful email and double the open rate of email
Easy to use
Pre-Built segments using AI
Easy one-click Automations for Shopify
Cons:
Vend Email
Vend Email is the most convenient way to forward emails to a new email address. It's also a great way to create a new, anonymous email account that you can use to send emails and receive replies.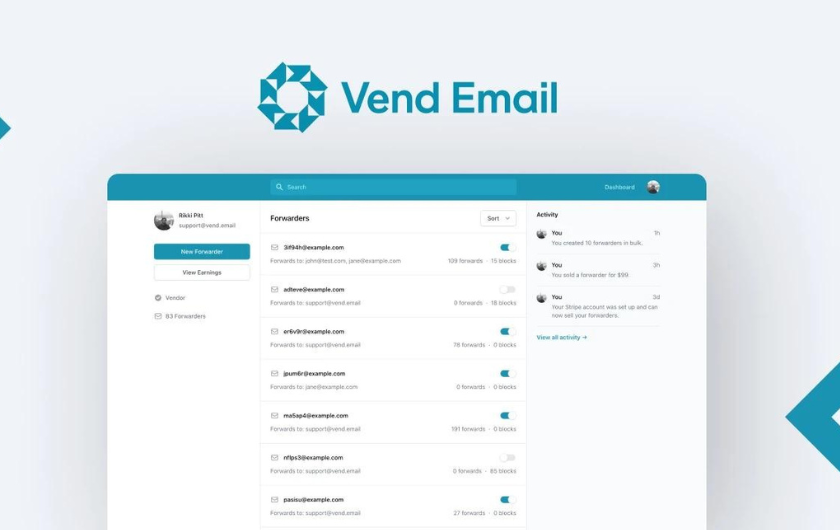 You've probably received an email that you wanted to forward to someone else, but didn't want to send from your personal account. Well, now there is a solution.
You can create an email address from Vend Email, and it will be completely anonymous. You can also use this service to forward emails from your personal email account to your Vend Email address. You can send the email to anyone you want.
The reason you should use Vend Email is that it is a secure email service. You don't have to worry about your email being compromised. There is no spam, and you can also forward the email to as many people as you want.
? Get Vend Email Lifetime Deal
Top Features of Vend Email:
Unlimited email handling
Buy unlimited forwarders
Use them anywhere
Forwarding email addresses
Sell lifetime deals
Pricing
Free: Free plan available
Standard: $12 /month
Premium: $20 /month
Best for: Marketers, Marketing agencies, Project managers, Recruiters
Boxward – Email Warmup Tool
Boxward is a perfect email warm-up solution. This software raises your sender's reputation by producing human-like email interactions. And it ensures that all your emails will reach their targets. This email warmup tool makes sure that your emails will arrive in the primary inbox. It keeps the outreach emails healthy.
Boxward sends realistic emails to your audience inboxes and It will automatically open the emails in your inbox and marks them as important. Moreover, to create a realistic conversation, Boxward replies to the users also. This tool prevents your email provider from disabling the email.
Using Boxward, you can check whether your email deliverability is getting worse or improving over time. You can use Boxward for new, existing, and distressing emails. By preventing the disability capacity of the email providers, this tool ensures that the newly created emails will receive better deliverability.
Boxward keeps the existing emails in good standing and confirms that you can use these emails at scale for cold outreach. Moreover, if any email has deliverability problems, this tool returns that email to good standing and repairs its reputation.
Top Features of Boxward
Multiple warm-up algorithms
Real-time deliverability
Detailed reporting
Personalized, human emails
Sent realistic emails and replies in threads
Pros:
Reduce the amount of spam and junk email
Prevent the disabling of email
Good customer support
Cons:
No free version is available
Pricing
$19/ Month ( But right now only for $9 per month )
Best for: Digital Marketers, Marketing agencies
ClickReach
ClickReach is a powerful and efficient outbound prospecting automation solution. It personalized email campaigns at scale and enables you to generate more replies. You can outperform your outreach goal using this platform.
ClickReach with your email list enables you to start hundreds of one-to-one conversations. It makes each recipient feel special. This tool makes each message unique by automatically personalizing custom text, custom first lines, and other variables.
ClickReach allows you to use multiple sending accounts. Therefore you can send hundreds of messages using multiple sending accounts. The multiple accounts allow you to engage with more leads by starting more conversations. Moreover, it helps you to grow your revenue faster by acquiring more new customers.
This tool automates the conversations across multiple sending accounts. You can scale the outreach that gets more replies with more outbound touches.
ClickReach creates and launches cold email sequences by automating the personalized follow-ups. This tool sends unlimited follow-ups that feel genuine and personal and open more sales opportunities.
It reaches hundreds of leads by starting multiple sales engagement campaigns. This tool for the un-generic type messages automates the one-to-one follow-up sequences. At the right time, this platform will create the right opportunities for you.
? Get ClickReach Lifetime Deal
Top Features of ClickReach
Follow-up automation
Unlimited campaigns and contacts
Gmail and Office 365 integration
The custom delay between sending each email
Dynamic, conditional, and custom variable
Pros:
Text personalization
Create and save templates
Cons:
Pricing Plans Monthly
Business: $37
Scale: $47.2
HyperScale: $77.6
20% Off for annual plan
Mail Mint – Email Marketing Automation WordPress Plugin
Mail Mint is a powerful email marketing automation plugin for WordPress that's built for funnel hackers. It's designed to power up your funnels with email marketing automation and help you get more leads and sales.
With Mail Mint, you can collect and convert prospects without losing focus. This plugin has everything you need to optimize your next marketing funnel with email automation.
Mail Mint is a simple tool that is less cluttered and easy to use for managing leads, running targeted email campaigns, and simplifying automation flows. It's an ideal solution for those who want to optimize their email marketing campaigns without wasting too much time.
This plugin has a clutter-free user interface and it allows you to import unlimited contacts easily and organize them into lists, tags, or segments.
Key Features:
Easy Contact Management: Easily manage and organize unlimited contacts into lists, tags, or segments using a user-friendly interface.
Advanced Email Builder: Quickly create visually appealing and effective emails using advanced tools.
Strategic Email Sequences: Plan and schedule email sequences with strategic delays to nurture and convert leads into sales.
Simplified Automation Flows: Automate your workflows by triggering them based on specific actions or events, which can help you save time and increase efficiency with simplified automation flows.
Real-time Analytics: Gain actionable insights from real-time analytics to make data-driven decisions and optimize campaigns.
Dynamic Segmentation: Segment leads based on any contact data and send personalized emails for better results.
Stunning Email Templates: Impress subscribers with visually appealing email templates to increase opens and clicks rate.
WooCommerce Integration: Keep customers engaged and increase sales by sending personalized campaigns for your WooCommerce store.
EDD Integration: Automate email campaigns for digital products for better customer communication and increased sales.
Custom Lead Form: Convert visitors into leads and run targeted email campaigns to convert them into customers with custom lead forms.
Gravity Forms Integration: With Gravity Forms Integration, you can link your Gravity forms to Mail Mint and initiate efficient automation flows that boost conversions.
WPFunnels Integration: Set up automation flows on WPFunnels for customer journeys to increase sales.
Pros:
Easy to use and less cluttered UI.
Effortlessly bring in as many contacts as you want and arrange them into clutter-free lists, tags, or segments using our user-friendly interface.
Utilize actionable analytics to make informed decisions based on data and enhance the performance of your campaigns.
Advanced email builder to create visually stunning emails that stand out in the user inbox.
Real-time analytics to track campaign success.
Cons:
Mail Mint is only available as a WordPress plugin.
Pricing:
Mail Mint offers two pricing plans, a lifetime plan, and a yearly plan. Both plans offer up to 60% off.
Lifetime Plan:
Unlimited – $799.99 (Great for Large Business Agencies)
Large – $479.20 (Great for Marketing Organizations)
Medium – $199.99 (Great for Small Businesses & Entrepreneurs)
Small – $115.99 (Great for Solopreneurs & Beginners)
Yearly Plan:
Large – $159.99/Year (Great for Marketing Organizations)
Medium – $99.99/Year (Great for Small Businesses & Entrepreneurs)
Small – $59.99/Year (Great for Solopreneurs & Beginners)
Mail Mint also offers a 15-day money-back guarantee for new purchases. If you are unsatisfied with the product, you can receive a full refund within 15 days of purchase.
Sendster – AI Powered Email Marketing Tool
Sendster is a game-changing email marketing platform that harnesses the power of AI to supercharge your email newsletters. Whether you're a small business owner or a marketing professional, Sendster offers high-performance email marketing at a lower cost, thanks to its AI-driven capabilities.
With Sendster, you can easily send emails using AI, capture unlimited leads, and manage your email lists effortlessly. Say goodbye to limitations, as Sendster allows you to send an unlimited number of emails and create as many autoresponder or email campaigns as you need. Plus, it comes with in-built email verification to maintain your sender reputation and ensure deliverability.
Top Key Features:
Unlimited Contacts, Emails, Campaigns
In-Built AI Email Writer
Email Designer
Ready-Made Templates
Email Verification
Email Automation
Powerful Analytics
Pros:
Sendster's integration with Amazon SES can potentially save you up to $1500, making it a cost-effective choice for email marketing.
Generate headlines, subject lines, and email content with the help of AI, saving you time and effort.
Create visually stunning emails without any coding knowledge using the user-friendly email designer.
Sendster adapts to your needs, accommodating a wide range of email volumes and offering unlimited contacts, lists, and forms.
Cons:
New email marketing tool in the email marketing industry.
Pricing Plan:
Elite Level – $67 Yearly
Pro Level – $97 Yearly
Pro Extra – $127 Yearly
ActiveCampaign – Email Marketing, Automation, and CRM
If you want to sell your business product to numerous target audiences, then the best email marketing tool is ActiveCampaign. Due to this tool's segmentation capabilities, you can easily separate or convert your contacts into lists. Moreover, it allows you to customize your email marketing for hyper-personalization.
You need to write an email in such a way that will actively cater to your customer's specific pain points and concerns. This tool help you to do so. In simple words, this tool allows you to target your audience effectively, organize the list and create the best emails.
Top Features of ActiveCampaign
Write and design emails for particular audiences
Personalize emails
Audience segmentation
Landing page builder
A/B testing
Pros:
Easily customize the user's message
Use simple split testing
Cons
The little high learning curve for beginners
Increasing contacts leads to expanding the plan price
Pricing
Lite: $29/month
Plus: $49/month
Professional: $149/month
Enterprise: Contact with them
Mailchimp – #1 email marketing and automation software
Mailchimp is another mention worthy popular email marketing automation platform. You can get the all-in-one email marketing automation service for free from it. This email marketing tool lets you set a convincing delivery time. Moreover, you can use Mailchimp in integration with other platforms like Shopify, Magento, WooCommerce, etc.
Over time, Mailchimp has successfully added and offered different "Advanced" features. Using the forever free plan of Mailchimp, up to 500 subscribers, you can send 2500 emails. However, this plan is limited also. Marketers across different industries widely use this email marketing platform.
Top Features of Mailchimp
Drag-and-drop email builder
Contact segmentation into groups
Auto responders
Simple tracking for analytics
Send-time optimization
300+ Integrations
Pre-built Email Templates
A/B Testing
Automated Customer Journeys
Pros:
Multi-variate testing
Comparative reporting
Free plan is available
Cons:
Some of the essential features are not comes with free plan
Slow support compared to other tools
Pricing
Free: Free plan available
Essentials: $11 /month
Standard: $17 /month
Premium : $299 /month
Klaviyo – Marketing Automation Platform for Email & SMS
Klaviyo is another popular Marketing Automation Platform for Email & SMS in the market today. Klaviyo allows you to set up abandoned cart flows, and it captures those clients who use the cart to add their products but never checked.
Klaviyo is the ultimate eCommerce marketing platform. Klaviyo connects different tools and your eCommerce store within just a few clicks. Moreover, it helps in email marketing by creating an ultra-personalized message.
The entire template library in Klaviyo allows you to browse ideas. It is a great resource, and it provides excellent email templates and ideas. However, you can generate your own email templates for certain campaign email types. Simply this tool makes the campaign setup easier.
Top Features of Klaviyo
Onboarding
Easy-to-use templates
Based on captured data ability to create segments and lists
Responsive email templates and email newsletters
Drag-and-drop email design
Ecommerce automations
Signup forms
220+ built-in integrations
Pros:
Smart email sending
Real-time tracking
Cons:
Learning curve
The shorter onboarding process for SMS
Pricing
Free: Starting at $0 / month
Email: Starting at $30 / month
Email and SMS: Starting at $450 / month
GetResponse – Professional Email Marketing for Everyone
GetResponse is a popular email marketing software for automated lead generation. It is not a basic email marketing tool. in fact, it's more than this. This tool is specialized in automation, but it's more likely an all-in-one tool.
With the GetResponse tool, you can easily collect huge leads, convert those leads into sales by the proper workflow, and get more genuine customers.
Autofunnel is one of the crucial tools that GetResponse offers. Using this tool, you can create sales, webinars, leads, and more funnels. It is easy to use and fully automated. Several things include funnels like emails, exit popups, Facebook Ads, marketing automation, eCommerce integration, etc.
Whatever tools you require for growing the subscriber list, you will get everything in this tool.
Top Features of GetResponse
Audience segmentation
Landing page builder
Autoresponders
Automated email creation
Advanced analytics
Popup forms
Marketing automation
Website tracking
Transactional emails
Dedicated support
Web push notifications
Pros:
User-friendly interface
Free plan available
Cons:
The basic plan doesn't come with the complete automation
A maximum of 500 contacts for a free plan
Pricing
Free: Starting at $0 / month ( Up to 500 contacts )
Email Marketing: Starting at $19 / month ( Up to 2499 contacts )
Marketing Automation: Starting at $59 / month ( Up to 2499 contacts )
eCommerce Marketing: Starting at $1199 / month ( Up to 2499 contacts )
AWeber – Email Marketing & More for Small Businesses
If you are looking for the best value for a low cost, then AWeber is the best email marketing tool. Aweber is an affordable and reliable email marketing services platform. In terms of email deliverability rates, the industry leader is Aweber. This is an excellent email marketing platform for small businesses, teams, and entrepreneurs.
This tool optimizes your content or email so that it will ideally reach the inbox of your subscriber. However, based on your list's number of subscribers, this tool's pricing is strict. A large number of pre-built templates are available with it. It's a drag-drop email builder using which you will get the best results.
Top Features of AWeber
Automation
Email analytics
Subscriber segmentation
Third-party integrations
Sign up forms
Pros:
Create stunning emails
Email automation in the free plan
Automate email content creation
Cons:
Free for up to 500 subscribers only
Pricing
Free: Free plan available ( Up to 500 contacts )
Pro: Starting at $29.99 /per month ( Up to 2499 contacts )
Constant Contact – Create email marketing campaigns like a pro
By using the Constant Contact tool, beginners will find the easy-to-use complete toolkit. For email marketers, this tool is overall good. And it greatly helps to save time. You don't need to be good at email design while using this tool.
With Constant Contact, you can create new emails easily with this drag-and-drop email builder. Moreover, adding images, texts, coupons, videos, and pools to any email or message is very easy and simple.
Even not-so-techy people or people with zero coding skills can produce huge polished newsletters using this tool. Several mobiles optimize, and pre-built templates are available in it. However, the Constant Contact tool's key benefit is automation. On autopilot, you can save colossal legwork. In a word, the excellence of this tool as an email list service is behind the description.
Top Features of Constant Contact
Connect with people through email marketing
Simplify your overall email marketing process
Flexibility and choice of template design
Ease of use
Newsletter creation
Sign-up forms
Integrations with popular tools like Shopify, WooCommerce, Canva, and Etsy
Engagement reporting (i.e. views, clicks, etc)
Pros:
Email marketing automation
List management
Support Dynamic content
Cons:
Spam and design testing is not available
Import automation not available for free plan
Pricing for digital marketing plan
Core: Starting at $9.99 / per month
Plus: Starting at $45 /per month
Pricing for marketing automation
starting at $449 USD/ month
Conclusion
In conclusion, it's important to make sure that you have a good email marketing tool. It helps you to manage all your contacts and send emails to your subscribers. You can also use this tool to create a newsletter, schedule emails, track your results, and more. Here are the best email marketing tools that you can use to grow your business.