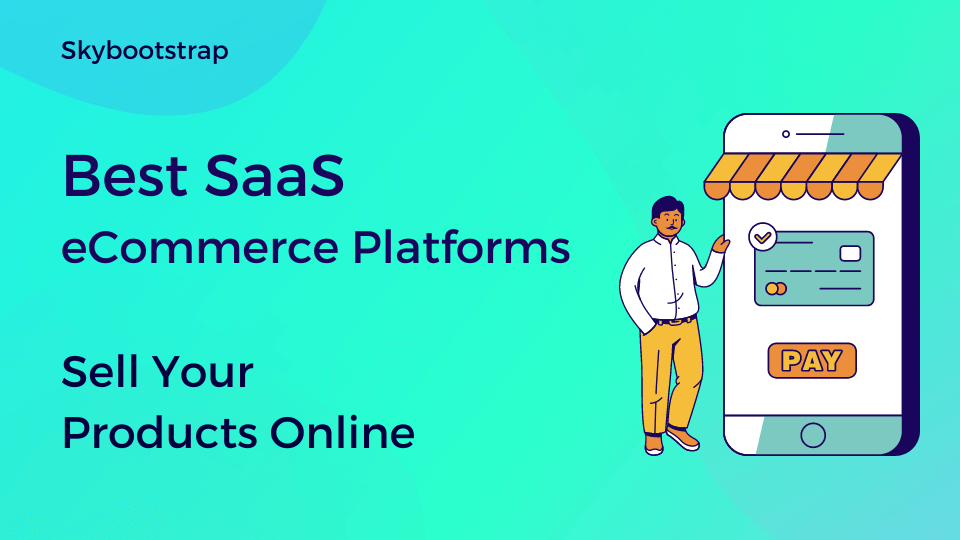 Using eCommerce websites is a great way to sell your products online and make a profit. But it's very difficult to choose the right eCommerce platform. In this post, I will introduce the 10 Best SaaS eCommerce Platforms in the market to Sell Your Products Online.
However, there are different SaaS platforms you can choose anyone from the list. Which one should you use? Read this article to find out which platform is best for you.
If you are looking for an eCommerce platform that allows you to sell your own products, you have to check out the eCommerce platforms like Shopify, Wix, BigCommerce, etc. Those are the most popular eCommerce platforms because it's easy to use and offers a lot of features.
If you want a simple, affordable, and easy-to-use platform, you should check out Ecwid. They offer a free plan and you get a free website when you sign up.
What is SaaS eCommerce Platform?
SaaS eCommerce Platforms provide a set of software tools that allow you to build and sell your own online store. These tools include a shopping cart, order management, order fulfillment, and inventory management.
SaaS eCommerce Platforms are usually offered as a monthly subscription. You will pay a monthly fee to use the service. However, you will get a lot of benefits from using the service.
You can start your own online business without spending a lot of money. You can also choose to use a hosted solution. This is a good way to save a lot of money and time.
What are the most common eCommerce platforms?
There are many different types of SaaS eCommerce Platforms. Some of the most popular are Shopify, BigCommerce, Adobe Commerce formally Magento, and Wix.
My Recommendation: 10 Best SaaS eCommerce Platforms
I have listed the top SaaS-based eCommerce Platforms to help those who are start selling their products online.
Shopify – eCommerce platform for online stores
Shopify is a cloud-based eCommerce platform that lets anyone start an online store. It was built to make running an online store easy and affordable. It allows business owners to create an online eCommerce store that sells products and services directly to consumers. It is designed to make eCommerce easy and fun.
With the leading eCommerce platform to build eCommerce businesses for individuals and companies. With a low cost of entry, easy-to-use software, and a powerful set of tools, Shopify empowers entrepreneurs and business owners around the world to take their businesses to the next level.
Shopify provides a free website builder and complete eCommerce platform that is used by millions of businesses around the world. They want to help people who want to create online stores and build their businesses in the easiest way. They created the world's easiest SaaS eCommerce platform for creating and launching a beautiful store with products people love.
Shopify digital store builder that makes it easy to create an online shop and start selling products in minutes. You can use it to sell anything like handmade jewelry, clothing, dog food, electronics goods, and many more.
Shopify provides a wide range of free themes and apps collection on their themes and apps store. Also, premium themes and apps are available in the store. Shopify provides complete marketing automation solutions.
Using Shopify is very easy thus, even new users can handle it efficiently. An apps store is available in Shopify with hundreds of apps and themes. However, Shopify ensures strong security and manages the user's safety and maintenance.
Top Features Of Shopify
Easy to use
Extensive functionality
Customizability
Abandoned cart recovery emails
14 days free trial
Pros:
Better security
Fast loading speed
Cons:
Vulnerable features with its API
Developers need to learn the open-source template language "Liquid" to use Shopify
Shopiroller – SaaS eCommerce Software
Shopiroller brings eCommerce power to every business owner who can open their store and start selling their product online. It is one platform with many solutions. This saas eCommerce platform gives you the power to sell products easily online, and to anyone.
However, Shopiroller offers easy payment solutions also. The payment provider of Shopiroller accepts all popular payment methods and credit cards. So your clients can easily make their payments. This online eCommerce platform allows you to meet with the POS system to bring profit to your business.
Shopiroller combines your online and in-store sales today. And this eCommerce tool efficiently manages all your business processes. It's a versatile eCommerce platform that combinedly works with commerce API. This platform will deliver dynamic, ultra-fast, and personalized shopping experiences.
Shopiroller offers business owners all the features required to start, scale and manage their eCommerce businesses. Most importantly, Shopiroller is one platform where you can sell physical products, digital products, and professional services.
Top Features of Shopiroller
Complete Online store
Payment Solutions
Get paid with a link
Native mobile application
Custom domain
POS system(Coming Soon)
GDPR compliant
Sell anywhere across social media, website, marketplace, or in person
Unlimited product photos, brands, categories
Pros:
Within a few clicks, your store is ready
Chat and quick email support
Make business easier by arranging everything in one platform
Super easy to use
Cons:
Reniwn – No Code Website Builder with eCommerce
Reniwn is a no-code website builder. Without coding, this software creates a fully SEO-optimized and responsive website. You can easily create a website and build your brand with Reniwn. You can start and grow your business using the built-in professional blog and eCommerce tools.
The simple set of SEO features will improve your site's search engine exposure. It is the best website builder that offers you everything you need in one place. From themes and templates to the SEO-tools and web hosting, Reniwn covers everything.
This software allows you to integrate with different powerful tools like Facebook Pixel, Google Analytics, MailChimp, etc. Integrating Reniwn with all these tools will enable you to track your users and capture and convert the leads. Reniwn also provides fully drag-and-drop website builder functionality. Using the drag-and-drop feature Reniwn creates professional websites in minutes. And the site is fully responsive with all devices. Without any technical knowledge, it makes a website fast in minimal time.
Top Features of Reniwn
100+ themes and 250+ elements
Unlimited stock photos
Build a fully responsive and SEO-optimized website
Advanced eCommerce features like analytics, PayPal/Credit Card checkout, etc.
Drag and drop website builder
Fast loading speed
Pros:
Fully customize your website according to your requirement
Easy to use and build the website
Cons:
Launch Cart – All in One eCommerce Platform
Building an online store is far more complex than setting up a simple lemonade stand. With Launch Cart, you can launch an eCommerce store effortlessly. This intuitive platform presents an innovative solution for sellers looking to diversify their merchandise, seamlessly managing everything from physical products to digital files.
The system boasts a user-friendly page builder, enabling the creation of mobile-responsive eCommerce websites without the need for any coding expertise.
This platform provides multifaceted solutions for sellers, allowing products to be promoted through live streams on social media platforms. Its agility facilitates sales and special discounts targeting specific customer groups. With the order fulfillment companies, products can be shipped directly to the customer's doorstep.
The flexible checkout page allows for personalized branding, embedding trust badges, countdown timers, and logos, enabling businesses to create an impressive storefront.
Launch Cart supports over 30 currencies, custom shipping profiles, and tailored tax regulations, making it ideal for international business expansion. Integrated with native apps, it encompasses a broad spectrum of features including reviews, list building, upsells, and more.
Top Key Features:
Mobile-Optimized Page Builder
Global Sales Capability
Seamless Order Fulfillment
Checkout Customization
Triggers + Automations
Abandoned Cart Emails
Pre-Cart Upsells
Integrated with Leading Payment Platforms
Print-on-Demand Marketplace Inclusion
In-Depth Customer Data Analytics
Pros:
Comprehensive Selling Tools
User-Friendly Page Builder
Global Market Accessibility
Extensive Customer Data Insights
Cons:
Need to Learning for Advanced Integration
BigCommerce: SaaS eCommerce Platform
The popularity of Bigcommerce is growing day by day when it comes to choosing the SaaS eCommerce platform. Bigcommerce, just like all other eCommerce platforms, operates on a closed system. The subscription of it offers maintenance and support to the users. Store owners using Bigcommerce's tools can quickly bring any customization to their eCommerce site.
With a default base theme, you can use Bigcommerce, whether it is free or premium. However, you can modify it heavily, regardless of your chosen theme. Thus, by customizing the theme according to your choice, you can meet your store's branding and unique requirements. However, for both the small and big stores, one of the suitable platforms is Bigcommerce.
Top Features Of Bigcommerce
Unlimited file storage, products, and bandwidth
Less downtime
Single-page checkout
Easy Customizability
Visual Page Builder Editor
Theme Customization
Mobile Optimization
Product swatches
Pros:
High loading speed
B2B edition & Easy to use
Cons:
Automatic price increase
Limited themes
Wix.com: Free Website Builder – Create a Free Website
Wix is a saas based website-building platform that lets you create websites, web apps, landing pages, eCommerce stores, membership sites, and blogs. The Wix platform is easy to use, fast and reliable. Wix also offers a large collection of free web templates and themes to help you get started right away.
You'll also find thousands of professional website design ideas, resources, tips, and tutorials to help you succeed. Wix has made creating web content and building your online business easy and affordable.
The platform is great for people who want to build a website but don't have any design skills or time to learn how to do it themselves. Wix is a great place to start if you want to build a website but don't know where to start.
Wix is the easiest way to build and manage your website. You can create a website or a web app with just a few clicks. Wix is easy to use, fast and reliable. It is the perfect tool for beginners who want to create a website for their business or a personal blog.
Wix is a SaaS-based platform that's why you don't need to spend extra money for hosting and SSL. Wix provides built-in website speed optimization features and it's a highly secure cloud-based eCommerce platform. Wix support unlimited product to upload an online store with all plan.
Top Features Of Wix
Good site speed
Massive template collection
Intuitive drag-and-drop interface
Wix App Market allows you to extend your site's features
Built-in SEO management
Pros:
Integrated payment
Automated responders
Cons:
Template not interchangeable
A paid plan requires for Tracking and Analytics
Squarespace – Website Builder – Create a Website in Minutes
Squarespace is one of the best SaaS eCommerce platforms with incredibly rich publishing features. Its overall interface is beautiful. On the Squarespace platform, you can find everything on your exhaustive list. Whether you want to build an online store, website, or portfolio, you can turn all these ideas into reality with the help of Squarespace.
Compared to the other competitors in the market, the features of Squarespace are more versatile and powerful. It offers numerous flexible templates that fit perfectly to mobile devices. In addition, the themes of Squarespace are well-optimized for both the phones and tables.
Top Features Of Squarespace
Customizable template, page & content layouts
Website Builder
Pre-built layouts
Built-in mobile websites
Multiple contributors and access levels
Pros:
Beautifully and contemporarily designed template
Excellent image management options
Cons:
Slightly expensive
Autosave for posts and pages is not possible
Adobe Commerce (Formerly Magento)
Adobe commerce, formerly known as Magento, is an open-source and reliable eCommerce platform. This platform is fully customizable, prosperous, and highly secure. One of the top saas eCommerce platforms in today's world is Adobe Commerce. More than 2, 00,000 online merchants preferred this online cloud-based eCommerce platform.
This rich platform offers a vast set of unmatched functionalities to eCommerce business owners out of the box.
This platform uses a powerful search engine, Elasticsearch, which allows users advanced search functionalities. In addition, it offers users custom sorting and filtering facilities, which are usually missing in other platforms. Moreover, to reduce the server load, it uses the Varnish caching and significantly decreases page load times. Thus in minimal time, like in 1-1.5 seconds, Adobe Commerce store achieves the page load speeds.
Top Features Of Adobe Commerce
Page Builder
Store fulfillment
Product recommendations
High security
Integrated B2B functionality
Payment services
Pros:
Scale and extensibility
Intelligent eCommerce
Cons:
Ecwid – Ecommerce Shopping Cart
For building your personal online store, another vital tool is Ecwid. It is another excellent SaaS product to building an eCommerce store.
Using your Ecwid store, you can sell products online and in physical locations like market stalls, stores, concerts, etc. Whether your customer buys the product online or from your store, everything in Ecwid stays in sync.
Top Features Of Ecwid
Full POS integrations
Allow you to create multilingual stores
Import and export of products
Tax calculations
Multi-currency selling
Advanced SEO tools
Pros:
Cost-effective
Availability of total free plan
Cons:
Need to improve the multi-currency features
Volusion – Ecommerce Website Builder & Online Selling Platform
So, another cloud-based eCommerce solution is Volusion. Using it, you can build a fully functional and stunning online store from scratch. Volusion is an all-in-one eCommerce online selling platform. It allows you to create, expand and manage your online store easily. In addition, the available add-ons and multitude of built-in features in it make your online store management more manageable.
Volusion incorporates videos, image galleries, testimonials, and other types of content blocks to ensure the uniqueness of your site's each page. Adding the eCommerce aspect of Volusion ultimately leads to increased sales. Moreover, by using it you can achieve a solid footprint in business and the market. Volusion offers different robust features for managing your warehouses, inventory, vendors, shipping, and more. Moreover, it integrates multiple sales channels to ensure the growth of your business.
Top Features Of Volusion
Mobile friendly themes
Product display options
Customizable layouts
Homepage slideshow
Logo & Favicon upload
Pros:
Intuitive layout
For a small business, it offers a decent range of capabilities
Cons:
Poor site customization options
High pricing
New in the market
Frequently Asked Questions
What are the benefits of using SaaS eCommerce platforms?
SaaS eCommerce platforms are a great way to sell your products online. They offer many benefits, including A wide range of features and functions. Many different payment options. Ease of use. The ability to set up an online storefront in just a few minutes. And, most importantly, the ability to start selling your products right away.
What eCommerce platform should I use?
If you are looking to sell products online, you should use an eCommerce platform that is easy to use, has a robust API, and can be customized. You should also look for a platform that is backed by a reputable company and has a strong support team.
What is the biggest eCommerce platform to start selling products online?
There is no such thing as the "biggest" eCommerce platform. Every platform is a simply different platform. That means that each one has its own benefits, limitations, and features. Let's explore them all in detail and find out which one might be best for you. But in the market today compare with everything you can consider the Shopify platform.
The biggest eCommerce platform is Shopify. It is an online store builder that allows you to create an online store in minutes. You can use it to sell everything from clothing to electronics. It is also very easy to customize your website to look and feel the way you want. It can even be customized to look like a mobile app.
What eCommerce platform does Easy use?
If you are looking for the easiest eCommerce platforms you can consider Shopify and Wix. These two platforms might be the best option for you. They are both easy to set up and manage. As a newbie, I recommend Shopify and Wix to start selling your products online.
Which eCommerce platform is best for dropshipping?
I would recommend Shopify. It is easy to use, and it offers all the features you need to start your own dropshipping business. It provides a wide range of apps from the app stores. Shopify comes with complete marketing solutions.
How to compare eCommerce platforms?
Ecommerce platforms are great, but they're also very different. This is something that you'll want to keep in mind if you're planning to create an online store. So what are the key differences between the various eCommerce platforms? Here are a few: Customizability, Cost, Features, Customer Support, Security, Able to manage inventory, Products Uploads Limit, Pricing, Payment Options, etc.
Why use a SaaS eCommerce platform?
SaaS eCommerce Platforms are cloud-based software solutions that help entrepreneurs and small business owners to sell their products online. These platforms are great for those who don't have technical skills or time to learn to code. SaaS platform provides hosting that's why you don't need to be an expert of configure your hosting.
Conclusion
In conclusion, the best eCommerce platforms are the ones that make it easy to sell products online. They also allow you to customize the look and feel of your store, integrate with all your other marketing channels, and provide you with a complete suite of tools to manage your business.
You can choose between the most popular eCommerce platforms, including Shopify, BigCommerce, Volusion, Magento, and Wix. Each one has its own unique features and benefits.