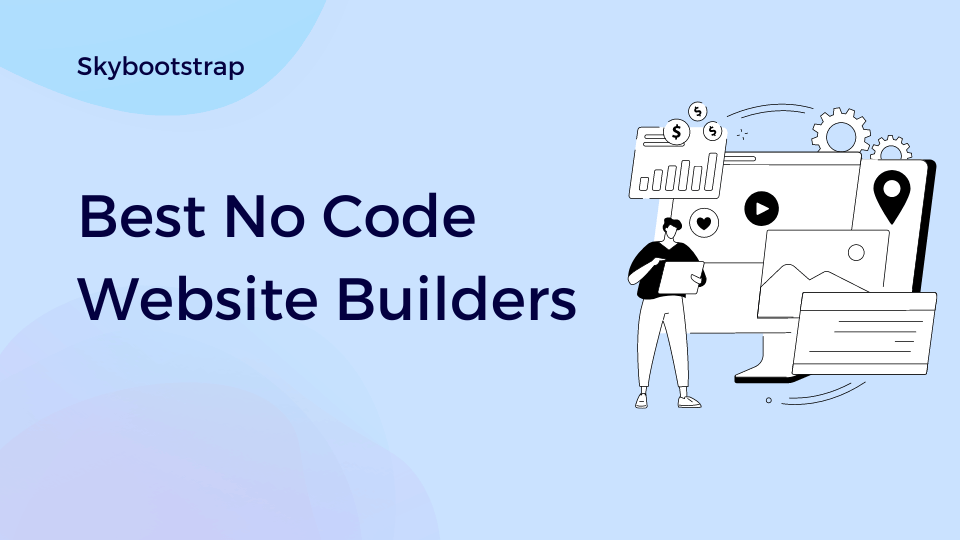 Are you looking for the best no code website builders in 2023? With so many options out there, it can be hard to choose the right one. Fortunately, we have done the research for you and compiled a list of the 5 best no code website builders software to help you easily create a professional website.
Every tool provides an easy-to-use interface that allows even beginners to quickly design a stunning website without having any coding knowledge. Each of these platforms has unique features that make them stand out from the crowd and can help you create an amazing website for your business.
So, If you are looking to build an online business, then you must be keen on starting a website. The best thing about having a website is that you can make it yours and create a great opportunity for yourself. It's an easy way to promote business and build your online presence.
What are no-code website builders?
No-code website builders are cloud-based platforms that allow users to design, build, and manage a website without writing any code. These intuitive tools provide simple drag-and-drop features with customizable templates or themes that make it easy for anyone to create beautiful websites with minimal effort. With the use of these tools, it's possible to create anything from a personal blog to an eCommerce website.
Benefits of using no-code website builders
Create a professional website without any coding experience
Easy drag-and-drop features for a user-friendly experience
Cost-effective solution for building your website
Endless customization options for a unique website
Always up-to-date with the latest tools and technologies
The 5 Best No Code Website Builders in 2023
if you are thinking of Creating a Professional Website, then you might be wondering which website builder is best for you. Here are the top 5 best no code website builders for you to consider:
Reniwn – No Code Website Builder
Reniwn is a no code website builder. It creates visually impressive, SEO-friendly, and fully responsive websites. Whatever content you add to your site will adjust naturally to any screen size & device like tablets, laptops, or phones due to its responsive nature.
With Reniwn generating a website is very fast, simple, and intuitive. In a matter of minutes, anyone can build a website using this drag-and-drop website builder. Without any coding knowledge, you can create a website with Reniwn.
All the available templates in Reniwn come with animation effects, clean layouts, and responsive visuals. Now all these features will definitely leave a positive impression on the users of your website. You can quickly build your brand by creating a website with Reniwn. The built-in professional Blog and eCommerce tools will help you to start and grow your website and business.
The Reniwn comes with a simple set of SEO tools that improve your site's search engine exposure. Reniwn works in integrations with Facebook Pixel, Google Analytics, Mailchimp, etc.
Top Features of Reniwn
100+ themes and 100000+ free stock photos
Build a visually impressive, SEO-friendly, and fully responsive site
Easy Editing
Analytics features
No coding knowledge required
Pros:
Easy to use
Works in integrations with other tools like Google Analytics
Cons:
You need to use a license when publishing every website.
Shopify – eCommerce store builder
Shopify is an eCommerce store builder that lets you build your online store. Millions of entrepreneurs worldwide choose Shopify to start their businesses and build their e-Commerce stores. The online store creator Shopify brings your vision to life.
To create an online store with Shopify, you require no coding knowledge. Using it, you can build your brand. World-class designers crafted larger numbers of customizable templates in Shopify. Using these templates, you can create a site according to your needs.
You can add more functionality and features to your online store with Shopify apps. It also provides the ability to edit code if you know how to code.
Shopify connects you with your customers everywhere and makes marketing easy through simple social media integrations. This eCommerce software does everything that you need to succeed in your business. Shopify tracks payments and manages inventory. And from the single dashboard, it views real-time business insights.
Shopify focuses on all the tools you require to build your online business and brand. It is empowering entrepreneurs. Whether entrepreneurs want to sell their products worldwide or down the street, Shopify has all the eCommerce functionality you need.
Top Features of Shopify
Store Builder
114+ high converting Shopify themes
Everywhere connects with customers both in person and online
Hosting with unlimited bandwidth
free SSL
Automated store Emails
connect your website with third party app
Pros:
Easy to use
User-friendly inventory management
Cons:
Difficulty with content marketing
No email hosting
Webflow – Visual Website Builder
Webflow is an efficient visual website builder for designing a responsive and professional site. It builds the website you want without coding or any developer's help. More than 3,500,000 designers and teams use Webflow to create beautiful websites.
Webflow builds, collaborates on, and scales beautiful sites without coding in a completely visual canvas. It has every feature that you require to develop a responsive world-class website.
Webflow is a website development platform that allows designers, teams, and companies to build, design, and launch websites. This nocode website builder platform translates your design into a semantic and clean code and develops a visually impressive site.
Without writing code, you can ultimately launch a custom website with Webflow. In addition, this website builder launches new campaigns, connects essential marketing tools with your site, and optimizes your site.
Top Features of Webflow
Google Analytics integrations
HTML embed codes and 3D animations
Zapier integrations, Mailchimp integrations
CSS3 flexible boxes
Custom URL redirects
Pros:
Easy to use
SEO support and external integrations
Cons:
Non-existent customer service
It's a saas based tool and not downloadable software
Squarespace
Squarespace lets you grow your business online. Using Squarespace, you can quickly build a website. To create a website, select from the industry-leading top website templates, color palettes, and designer fonts according to your professional needs.
Whether setting up an online store or adding third-party extensions, Squarespace aims to make your eCommerce easy. The social tools and on-brand email campaigns of Squarespace market your business. It retains customers of your business and grows your audience.
While creating a website using Squarespace, I recommend you start with a flexible template. Then, with Squarespace's website builder, you can customize the templates to fit your professional needs and style.
If you have an established brand or getting started with a new eCommerce business, Squarespace aims to make your eCommerce easy. It is a powerful eCommerce website builder. And it helps to grow your audience and industry. Whatever features you require to power your online store Squarespace offers you everything. Therefore you can sell anything online.
Top Features of Squarespace
Massive website templates available for every purpose
Squarespace made eCommerce easy
With email campaigns, reach and retains customers
Elevate your social presence
Pros:
24/7 Customer service
Market your business
Cons:
Limited SEO customizations
Slightly hard editor
Elementor
Elementor gives power to your vision to create, manage and host stunning and unique design websites. Using the drag-and-drop editor of Elementor, you can easily create a website and give life to it. To build a website, you require no coding knowledge. Based on the Hello Theme, 100+ entire website kit libraries are available.
You can select any theme from this extensive library to design your site. Moreover, Google-powered world-class built-in hosting is also available in Elementor. Using this hosting, you can build a high-performing and secure website.
Elementor is in one platform, it offers unlimited web creations. You can build your website's everything with Elementor, from the landing pages to a wholly blown website to eCommerce stores. The magic of web creation is Elementor.
Elementor builds an excellent stunning website with mobile-friendly responsive designs, cool animations, custom CSS etc. This website builder ensures a professional workflow by providing a consistent web experience. In a word, Elementor supercharges WordPress power with limitless capabilities. And this cloud base website builder reduces the requirement of using other plugins.
Top Features of Elementor
Live drag & drop editor
World-class hosting
Full website designs
Professional workflow
Unlimited web creation
Pros:
Ensure a good balance between flexibility and freedom of design
It helps you to grow professionally by elevating your skills
Cons:
No free version of the cloud package
Weak customer support
Conclusion
In conclusion, When you are ready to start building your website, you need to start by using a drag-and-drop website builder. These tools are perfect for beginners who don't want to code their websites. You will be able to create a website that looks professional and loads quickly.
If you are a beginner, you should try to use a no-code website builder. This is because it is easy to use and you don't have to worry about the technical side of things. You can easily create a website with a website builder.