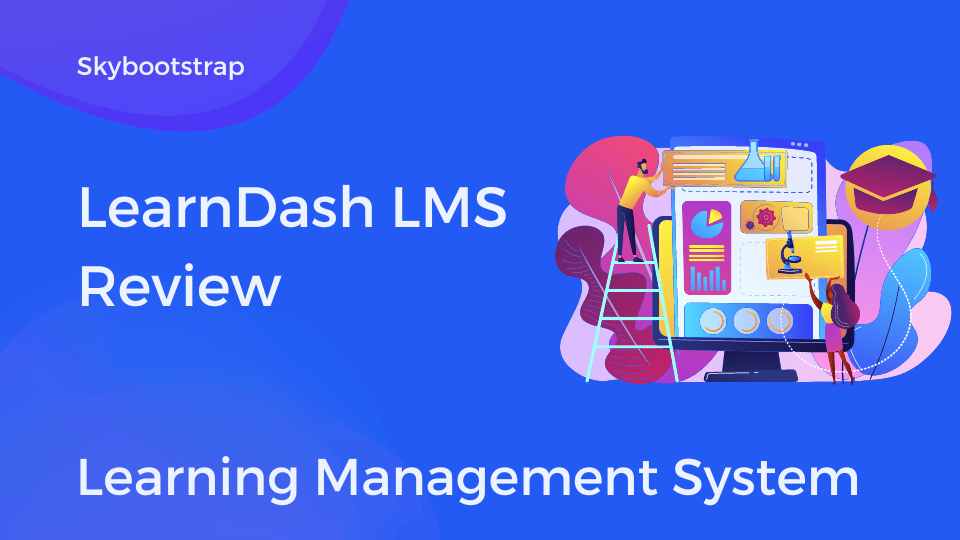 LearnDash is a popular WordPress LMS plugin. It is an excellent option for creating custom courses with its deep functionality. This platform is easy to use. You can create courses with this LMS plugin using a simple drag-and-drop editor.
The noteworthy features of LearnDash are easy course creation and management, quizzes and assessments, and user management and reporting. Moreover, this plugin is unique because of its features of dip-content, scheduling, and integrations with other platforms.
LearnDash comes with so many benefits for its users that we will explain thoroughly in this article. So, read this LearnDash review to learn more about it and find all the answers to your queries.
What Is LearnDash?
LearnDash is a cloud-based learning management system and WordPress plugin for businesses, training organizations, universities, and other enterprises. This platform offers tools for creating custom courses, turning WordPress sites into LMS, and selling courses online.
This tool allows users to generate quizzes, courses, training content, and assessments. Then the users via a WordPress site can also deliver those contents to the learners.
Overview Of LearnDash As An LMS (Learning Management System)
LearnDash is an advanced LMS plugin for WordPress to build an online course website. Users can easily configure the LearnDash LMS plugin and offer online training and courses. The users using LearnDash also can offer paid courses. Then, they can collect payments using Stripe, PayPal, etc.
LearnDash plugin has numerous built-in features like advanced quizzes, drag-and-drop course builder, dynamic content delivery, automated notifications, etc. Along with these features, LearnDash has some more unique features that we will discuss below.
In short, the LearnDash learning management system (LMS) is one of the best tools available for creating, managing, and delivering effective online courses, offering a range of features and customization options to meet the needs of individual educators, training organizations, and large corporations alike.
Key Features Of LearnDash LMS
LearnDash makes it easy and quick to set up a comprehensive learning management system (LMS) on your website. It is undoubtedly the best LMS plugin for WordPress. Its noteworthy features are:
1. Course Creation And Management
LearnDash empowers professional trainers to create, manage, and sell online courses using various pricing models, while also providing automated content delivery based on the predetermined schedules of learners.
2. Quizzes And Assessments
LearnDash plugin offers a lot of advanced quizzes under the 5 types of quiz categories. LearnDash's quiz builder to mix and match the assignments offers an inclusive question bank. It supports automated difficulty levels, quiz attempts, a variety of media, and more.
3. User Management And Reporting
The administrative dashboard of LearnDash allows the user or administrators to manage user profiles, assignments, etc. Also, this LMS plugin allows users to manage their enrollments, grouping and reporting on a unified interface.
4. Drip-Content And Scheduling
Dynamic content delivery of LearnDash includes drip-feed lessons, linear and open progression, required videos to be viewed, etc. The Learndash's drip-feed lessons ensure that the learners will view the course content in progression.
This platform creates your content structure and, on a defined schedule, makes it live. Also, you can set the progression to be open or linear.
5. Integration With Other Tools And Platforms
LearnDash integrates seamlessly with other tools and platforms to enhance the user experience. This includes popular e-commerce platforms for selling courses, email marketing tools for promoting courses and payment providers for processing payments.
LearnDash integration with these tools and platforms allows for a seamless experience for both the course creators and their students. Additionally, LearnDash is built on WordPress, the world's most popular content management system, allowing users to easily integrate with their favorite plugins and themes.
This platform allows the trainers to do so through its integrations with numerous gateways, including Stripe, PayPal, BuddyPress, WooCommerce, Samcart, and 2Checkout.
Benefits Of Using LearnDash
The advantage of LearnDash is behind the description. It allows the users to visualize their course's layout as they build it. In addition, this platform offers the following benefits to its users:
1. Easy Course Creation And Management
LearnDash, without any restrictions, allows you to create impressive online courses and ensures easy management. The best course builder, LearnDash makes course creation a snap. You can generate an entire course website with LearnDash Cloud.
2. Robust Quiz And Assessment Features
LearnDash is unique and special from others because of its superior quizzing capabilities. It has the most potent quizzing engine in the industry with robust assessment features.
The powerful quizzing engine engages the learners with 8 different question types. LearnDash offers you numerous options for quiz creation, post-quiz results display, and quiz delivery methods. This platform helps users by creating meaningful questions and assessments.
In short, LearnDash offers question banks, 8 question types, limit attempts, flexible question displays, and many more.
3. Advanced Reporting And Analytics
LearnDash, through advanced reporting and analytics, provides valuable training insights to users. The reporting features of this platform allow you to know where, when, how often, and how long your learners are accessing your content.
4. Flexibility And Customization Options
The LearnDash is flexible to any schedule. So, the user doesn't need to schedule materials, training rooms, or even trainers. This plugin works anywhere and at any time. Moreover, the easy customization option allows you to customize your courses according to your requirements.
5. Extensive Integrations
The LearnDash ecosystem or extensive integrations extend your capabilities. This platform doesn't limit your capacity and creativity, unlike other platforms. LearnDash lets you connect easily with the tools or platforms you already know.
Simply in integration with other tools, LearnDash creates a truly unique and perfect learning platform for learners. The extensive integrations of this platform include WooCommerce, 2Checkout, Stripe, BuddyPress, Samcart, ConvertKit, Stripe, GamiPress, etc.
Use Cases For LearnDash
LearnDash is a popular learning management system and it can be used for huge purposes. And those are:
Corporate Training & Development: The corporate trainer and developers can use LearnDash for creating corporate training and development-related courses.
Online Course Creation & Delivery: LearnDash is an excellent option for solo course creators looking to generate online courses. You can use it in your online business to create and deliver an online course.
Membership & Subscription-Based Learning: You can offer membership and subscription-based learning to learners using this plugin.
E-learning For Schools & Universities: LearnDash is a great option to introduce E-learning in serious academic institutions, including schools and universities.
What is LearnDash Cloud?
LearnDash Cloud is a fully hosted learning management system (LMS) that runs on the WordPress platform. It includes LearnDash, a popular LMS plugin, and ProPanel, an analytics solution. The platform offers customizable templates, fast performance, advanced quizzing and video features, and integration with Stripe for payment processing.
It allows users to host their courses on their own WordPress site and offers hands-off maintenance, security, and automatic updates. The monthly subscription includes hosting security and the LMS solution with no hidden fees.
Key features of LearnDash Cloud:
Hosted on the World's Most Popular CMS: LearnDash is built on WordPress, the most widely used and powerful content management system in the world.
Pre-installed ProPanel analytics: Provides insight into learner progress and engagement.
Beautiful templates: Choose from a variety of customizable templates to align with your brand.
Fast performance: Optimized for e-learning with technology that makes the LMS run quickly.
Advanced quizzing and video features: Includes focus mode, dynamic video courses, and advanced quizzing options.
Seamless payment integration: Connects to Stripe for easy payment processing without any fees.
Hands-off maintenance: Automatic updates and security included to focus on course content creation.
Built-in website: Expand your course site with a website.
Customizable design: Use the drag-and-drop course builder to set custom fonts, colors, and logos. 
LearnDash Cloud Pricing
LearnDash Cloud offers a monthly subscription plan that is billed annually at $299. The monthly cost is $24. The subscription includes hosting, security, the LMS solution, and the pre-installed ProPanel analytics solution with a $49 value.
There are no hidden fees and the pricing includes access to customizable templates, fast performance, advanced quizzing and video features, seamless payment integration, and dedicated support.
FAQ
What type of content management system does LearnDash Cloud run on?
LearnDash Cloud runs on the WordPress platform, which is the most popular and powerful content management system in the world.
What's the difference between the LearnDash plugin and LearnDash Cloud?
The main difference between the LearnDash plugin and LearnDash Cloud is the hosting and maintenance aspect.
The LearnDash plugin is a self-hosted LMS solution that requires the user to have their own WordPress installation and take care of hosting, maintenance, and security themselves. The plugin can be purchased and installed on any WordPress site, providing users with the tools to create and manage their own online courses.
LearnDash Cloud, on the other hand, is a fully hosted and managed LMS solution built on the WordPress platform. It is a subscription-based service that takes care of the hosting, maintenance, and security of the site, allowing users to focus on creating and managing their online courses.
It includes the LearnDash plugin for WordPress and a pre-installed ProPanel analytics solution, with a more streamlined and hands-off approach compared to the self-hosted LearnDash plugin.
What type of payment integration does LearnDash Cloud offer?
LearnDash Cloud offers integration with Stripe, allowing users to quickly and easily process payments for their online courses. With the integration, users can accept payments directly on their own website, without having to redirect students to a third-party site. The integration is seamless and LearnDash Cloud does not take any fees from payments processed through Stripe.
Conclusion
In conclusion, LearnDash is a comprehensive and user-friendly learning management system that offers a wide range of features and customization options for creating, managing, and delivering effective online courses.
Whether you're an individual educator, training organization, or large corporation, LearnDash has everything you need to build and deliver your courses in a professional and engaging way. 
With its seamless integration with other tools and platforms, customizable templates, and powerful analytics capabilities, LearnDash is an ideal solution for those looking to create and deliver online courses that meet the needs of their students and help them achieve their learning goals.
So we are at the end. And after going through this comprehensive review, you will surely like a lot about LearnDash. From our end, we have explained everything about LearnDash. If you like the content please share now.