Are you tired of long, complex, and messy URLs that make sharing links a hassle? URL shorteners are the perfect solution to this problem, providing users with shorter, neater, and more manageable links that are easier to share and track. In 2023, there are plenty of URL shortener platforms and tools available on the market, each with its unique features and benefits. In this blog post, we'll explore the 7 best URL shortener platforms and tools to help you choose the perfect solution for your needs.
Whether you're a marketer, blogger, or social media user, these platforms and tools offer a wide range of features that can help you streamline your link-sharing process, track link performance, and improve your online presence. So, let's dive in and explore the best URL shortener platforms and tools of 2023.
What is a URL shortener?
A URL shortener is a tool that takes a long and complex URL and transforms it into a shorter and more manageable format. The resulting shortened URL redirects to the original long URL when clicked.
URL shorteners are commonly used on social media platforms where character limits are present or when sharing lengthy links is not practical. Additionally, URL shorteners can offer additional features such as tracking, analytics, and customization options.
Why use URL shortener?
URL shorteners can be useful in a variety of situations, including social media posts with character limits, email marketing campaigns, and SMS messaging. They allow you to create more concise and readable links, track clicks and engagement, and customize your links with branding and keywords.
Additionally, link shorteners can help protect against broken links and improve search engine optimization (SEO) by allowing for cleaner, more user-friendly URLs.
5 Factors to Consider When Choosing a URL Shortener
Choosing the right link short tool can be crucial to the success of your marketing campaigns. With so many options available, it's important to consider the features and benefits of each platform before making a decision. Here are some key factors to consider when choosing a URL shortener:
Features: Look for a platform that offers features you need, such as custom domains, link tracking, and analytics.
Security: Make sure the platform has security measures in place to protect your data and prevent unauthorized access.
Reliability: Choose a provider with a proven track record of uptime and reliability to ensure your links are always available.
Scalability: Consider the scalability of the platform, especially if you plan to use it for large-scale campaigns.
Integration: Look for a URL shortener that integrates with your existing marketing tools and platforms to streamline your workflow.
Comparison of Top 7 URL Shortener Platforms and Tools
| Features | TLinky | Premium URL Shortener | Bitly | Rebrandly | BL.INK | Cuttly | TinyURL |
| --- | --- | --- | --- | --- | --- | --- | --- |
| Custom domain | Yes | Yes | Yes | Yes | Yes | Yes | Yes |
| Link branding | Yes | Yes | Yes | Yes | Yes | Yes | Yes |
| Advanced analytics | Yes | Yes | Yes | Yes | Yes | Yes | Yes |
| Integrations | 16+ | Yes | Yes | Yes | Yes | Yes | Yes |
| Team collaboration | Yes | Yes | Yes | Yes | Yes | Yes | Yes |
| Starting at | $9/m | $45/ One Time | $8/month | $12/month | $48/month | $25/month | $12.99/month |
Comparison of Top 7 URL Shorteners
List of the Top 7 URL Shortener Platforms and Tools for 2023
There are a variety of URL shortener platforms and tools available on the market today, each offering different features and benefits. These platforms have been selected based on their popularity, functionality, and overall performance.
TLinky – Link Management Solution
In today's digital age, where every click counts, TLinky stands out as the ultimate link management solution. It simplifies the complex web of URLs and links, making them more manageable and impactful.
Whether you're a marketer aiming to optimize campaigns or an individual seeking streamlined link management, TLinky has you covered.
TLinky's power lies in its versatility. It's more than just a URL shortener; it's an all-in-one toolset for managing and enhancing your online presence.
With features like URL shortening, branded links, QR code generation, and a robust Link in Bio option, TLinky empowers you to take control of your digital landscape. Its intuitive interface ensures that users of all levels can harness its capabilities with ease.
Key Features:
URL Shortener: Transform lengthy, cumbersome URLs into concise, shareable links.
QR Code Generator: Easily create QR codes for offline engagement.
Link in Bio: Build comprehensive bio pages for simplified link sharing.
Branded Links: Boost brand recognition with custom-branded short links.
Analytics Dashboard: Gain insights into link performance and audience behavior.
Password Protection: Secure links with password protection for restricted access.
Link Expiry: Set expiration dates for links to manage content visibility.
Geo Targeting: Deliver content based on the location of your audience.
Device Targeting: Optimize user experiences for different devices.
Integrations: Seamlessly integrate it with 16+ platforms.
Team Management: Efficiently Collaborate and Streamline Workflows with Team Management
Export Reports: Easily export analytics data.
API Integration: Integrate TLinky into your existing workflows.
Real-time tracking: Stay informed about link clicking in real time.
Reviews
4.9 out of 5 Stars Based on 50+ Capterra reviews.
Pros:
Comprehensive suite of link management tools.
User-friendly interface for all experience levels.
Enhanced branding and personalization options.
In-depth analytics for data-driven decisions.
Cons:
Mobile version could benefit from some improvements.
Expanded integrations could further enhance functionality.
Pricing
Free Plan – Always Free
Starter Plan – $9/ month and $90/year
Advanced Plan – $29/ month and $290/year
Business Plan – $89/ month and $699/year
Premium URL Shortener – Best link shortener tool
Premium URL Shortener is a powerful and reliable PHP-based web application tool designed to help businesses and individuals shorten and customize their long and complex URLs.
This Software as a Service (SaaS) platform comes with an extensive list of features, including advanced campaign management, link rotation, geotargeting, and device targeting. The platform also provides advanced analytics and tracking, pixel tracking, and QR code generation.
The team feature allows multiple users to collaborate and manage campaigns and links from a single platform. Premium URL Shortener also offers custom domains, splash and overlay pages, and custom parameters and UTMs to personalize and optimize your links.
Additionally, the shorting tool supports social logins, easy translation, and private services, ensuring users can access a secure and customizable service.
For those who want to integrate Premium URL Shortener with other tools and platforms, the platform offers integrations with Slack, WordPress, and Zapier. The advanced API system also provides additional flexibility and customization options for developers.
Overall, Premium URL Shortener is a versatile and reliable URL shortening tool that can be a valuable asset for businesses and individuals looking to streamline their link management and tracking. With its extensive list of features, user-friendly interface, and excellent customer support, it's definitely worth considering as a powerful tool for your marketing and branding needs.
Top Key Features:
Management and tracking: The platform provides advanced analytics and tracking capabilities, enabling users to track link clicks, traffic sources, and user engagement.
Bio Profile/Link in Bio Generator: This feature allows users to create a custom bio profile or link in bio page with personalized themes, custom domains, and multiple social profiles.
Advanced QR Generator: The platform also includes an advanced QR code generator that enables users to create dynamic QR codes with custom logos, colors, and designs.
Team Feature: Premium URL Shortener supports team collaboration and management, enabling multiple users to work together on campaigns and links from a single dashboard. You can control team members' limit based on your pricing plans.
Custom Domain: Users can easily create and use their own branded custom domains to reinforce their brand identity.
Campaigns & Link Rotator: The platform provides users with the ability to create and manage multiple campaigns and links with an advanced link rotator that distributes traffic between different URLs.
Splash & Overlay Pages: Premium URL Shortener also includes a splash and overlay page builder that allows users to create custom landing pages with personalized templates, colors, and themes.
Geotargeting & Device Targeting System: Users can target specific devices and geographic locations to reach their target audience more effectively.
Advertisement Manager: Premium URL Shortener comes with a built-in advertisement manager that enables users to monetize their short URLs with banner ads.
Pros:
Comprehensive feature list
Powerful campaign management and tracking
Custom domains and splash pages
Advanced API system and integrations with Slack, WordPress, and Zapier
Dedicated help center and easy translation options.
Each click tracking
Zapier integration
Cons:
Premium URL Shortener Pricing
Regular: One time fee $45 per license
Extended: One time fee $225 per license
Bitly – The Leader in URL Shortening Services
Bitly is a powerful URL shortening tool that has been trusted by businesses and individuals alike for over a decade. With its simple and easy-to-use interface, Bitly allows users to shorten their long URLs into bite-sized links that are perfect for sharing on social media, email, or anywhere else on the web.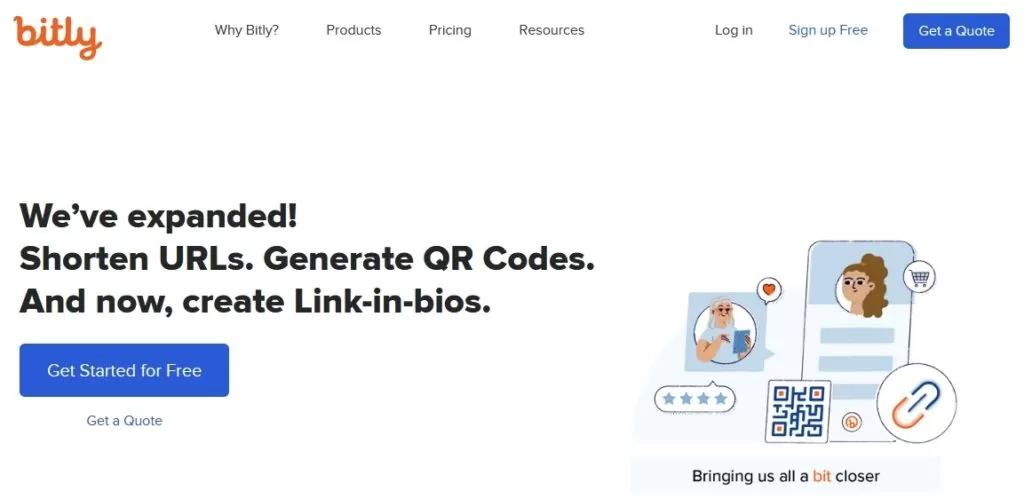 Bitly is much more than just a URL shortener. It also provides users with valuable insights into how their links are performing, including the number of clicks, device, geographic location of the clicks, and other valuable metrics. This data can be used to optimize marketing campaigns, improve marketing strategies, and drive better business results.
In addition, Bitly offers a range of advanced features for businesses, such as branded links, custom domains, and team collaboration tools. These features make it easy for businesses to maintain a consistent brand identity while also giving them the ability to manage and track their links at scale.
The link management feature of Bitly is a comprehensive solution for users. Link management helps make every connection point powerful between your audience and content.
Overall, Bitly is a must-have tool for anyone looking to shorten and track their links, drive more traffic to their website, and optimize their online presence.
Also, Bitly generate QR codes and create link-in-bios. This tool offers all the features you need to build connections in a single unified platform.
Whether you want to manage QR Codes, build brand connections, or connect with audiences, Bitly offers you everything in a single platform.
Bitly Link-in-bio is a powerful tool that allows you to create a landing page with clickable links that can be added to your social media profiles. With Bitly Link-in-bio, you can extend your reach and make it easier for your audience to discover and engage with your most important links, ultimately driving more views, sales, subscribers, and leads.
Bitly is a popular URL shortening tool, and its global paying customers are more than 500K. Monthly active users of this tool are approximately 5.7 M. This tool created 256M links & QR codes monthly.
Top Features of Bitly
URL shortening at scale & URL redirects
Link management, QR codes & Link-in-bio
Fully customizable QR codes
Advanced analytics & tracking
Easy to manage links
Provide hosted paid plans
Pros:
Make custom URLs for social media
Easy URL redirects
Cons:
Only 10 links per month for a free plan
Bitly Pricing
Free Plan: $0/m
Starter: $8/m
Basic: $29/m
Premium: $199/m
Rebrandly – The Best for Custom Domain Shortening
Rebrandly is an efficient industry-leading platform for link management. This platform uses a custom domain name to track, brand, and share short URLs.
Rebrandly is a perfect and complete link management platform to manage and brand links. This tool puts your brand name on every link you share, significantly enhancing your brand trust and visibility. Rebrandly tracks the URL and understands social media, ads, SEO & email marketing through detailed click stats.
Rebrandly collaborates the URLs by sharing branded short links across regions, teams, and departments with one cohesive strategy. Moreover, the link shortener of Rebrandly enables you to target and grow your audience with your link.
The easy-to-use feature of Rebrandly helps in scaling up your business. This platform increases the usage of your brand with the infrastructure that can grow similarly to your business's rate.
Rebrandly is a trustworthy platform. And the most innovative brands in the world, like Shopify, United Nations, Indeed, Volvo, and many more brands, trust this tool.
Top Features of Rebrandly
Brand and manage link
Share and collaborate on the branded short links
Track social media, Ads, and email marketing stats
Easy integration of the work process
With the link shortener, it grows and targets your business
Pros:
Easy to use
Develop the brand credibility
Free version available
Cons:
Rebrandly Pricing
Free: $0
lite: $12 /month
Essentials: $28 /month
Professional: $85 /month
Bl.ink – The custom URL shortener
Bl.ink provides the link of record to monitor, manage and measure your brand's performance across your global audience. This tool offers the record link to monitor accuracy and manage every touch.
Also, it provides analytical insights to measure the performance and value across your global audience. Bl.ink creates perfect attribution, monitors for accuracy, and measures every touch. This tool can amplify your social value by increasing flexibility and delivering greater control.
Customers across the globe depend on Bl.ink to increase their social engagement impact. Bl.ink amplifies your brand's social value by increasing flexibility, greater control, and safeguarding your data analytics.
Customers depend on this platform to increase their social engagement impact. Also, using Bl.ink, you can safely deliver measurable and actionable links via SMS or any messaging platform.
Top Features of Bl.ink
Insanely blaze for large-scale campaigns
Customer-centric flexible link management solution
Pros:
Easily measure the link conversion
It integrated with the fast-spread social effort seamlessly
Cons:
Bl.ink Pricing
Expert+: $48/mo
SMB: $99/mo
Team: $299/mo
Business: $599/mo
Enterprise: CUSTOM
Cuttly – Free link shortener
Cuttly is the URL shortener, QR codes generator, Link management, link analytics, and link in bio platform. This tool shortens, manages, brands, shares, and easily tracks your links.
By using Cuttly, you can have complete control over the links. Cuttly is an efficient and all-in-one link management platform for all your needs and links. This tool is an advanced URL shortener.
Cuttly with extensive link Analytics offers an all-in-one solution that enables you to manage your links. This platform enables you to generate QR codes and create your Link-in-bio microsites. Simply Cuttly is a professional link management solution.
You can create branded short links using Cuttly with your custom domain. Whether you are a marketer, blogger, or small or large affiliate company owner, Cuttly will enable you to control all your links.
Top Features of Cuttly
URL shortener
Link management platform
Link analytics and link-in-bio
Generate and customize QR codes
Easy management of short links
Pros:
Fast support and advanced features
The subscription plan will fit every wallet
Cons:
Cuttly Pricing
Free: Free forever
Single: $25/month
Team: $99/month
Enterprise: $149/month
Tinyurl – Link management services
Tinyurl is a link-shortening platform that offers easy link shortening, customized url, and entire link history. This platform offers full-scale link management. You can create and manage thousands of links in a once-centralized place using Tinyurl.
The full-scale link management services of Tinyurl harness power and security. Tinyurl, from your email marketing, customer communications, and social media, entirely removes the long URLs.
It is an easy-to-use URL shortener, and it creates powerful shortened URLs. Tinyurl monitors every click that your links receive to understand your audience better.
This platform provides the most trusted URL shortening service by analyzing the overall link performance. You can track unlimited clicks for your links by shortening the long links with Tinyurl. The short links will work wonders.
Top Features of Tinyurl
Shortened URL
Full-scale link management
Customized and Branded link
Tracked clicks
Link retargeting
Campaign monitoring and analytics
In one centralized place, create and manage thousands of links
Pros:
Easy to shorten the links
Trusted URL shortening service
Cons:
Paid plans are quite expensive compared with other competitors.
Tinyurl Pricing
Free: $0/mo
Pro: $12.99/mo
Bulk: $129/mo
Common FAQ about short links
How does URL shortener work?
URL shorteners work by taking a long and complex URL and creating a shorter, more manageable version. The process involves taking the original URL and generating a unique code or identifier that is added to the shortened URL.
When a user clicks on the shortened URL, they are redirected to the original URL through a server-side redirect. The server-side redirect also allows for tracking and analytics, providing valuable insights into link engagement and user behavior.
How many characters can a shortened URL have?
Data: Most URL shorteners limit the length of shortened URLs to around 10-20 characters, although some allow for longer URLs. For example, Bitly limits URLs to 14 characters, while TinyURL allows up to 27 characters. However, it's important to note that shorter URLs are generally easier to remember and share.
Conclusion
In conclusion, URL shorteners are useful tools for businesses and individuals who want to simplify and customize their long and complex URLs. There are several URL shortener platforms and tools available in the market, but we have discussed some of the best options for 2023. Each of these platforms offers unique features and benefits, making them suitable for different needs and preferences.
Whether you need advanced tracking and analytics, custom domains, team management, or social media integration, there is a URL shortener that will meet your requirements. Using any of the platforms and tools listed in this article can improve your online presence, enhance your branding, and optimize your digital marketing strategies.
When choosing a URL shortener platform or tool, it is essential to consider factors such as security, reliability, ease of use, and pricing. We hope that this article has provided you with valuable insights to help you make an informed decision about the best URL shortener platform or tool for your needs.